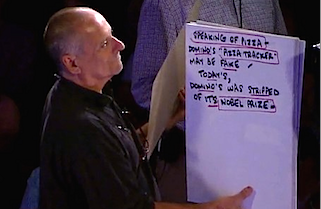 A physical altercation on the set of CBS' Late Show with David Letterman has reportedly led to the termination of Tony Mendez, who served as the show's cue card handler for 21 years. According to the New York Post, Mendez was fired after grabbing staff writer Bill Scheft by the shirt and throwing him against the wall before the Thursday, October 9th taping of the Late Show.
Mendez gave the Post his version of the story, excerpted below:
"[Scheft] encroaches on my work. He tells me what to do, and I have to say, 'I know what I'm doing.' And a lot of time when I am making changes [to the cards], he'll stand there looking over my shoulder, and he'll say something like, 'Put that on top,' because he got an idea.

"Bill was always undermining me — making himself out as Dave's No. 1," Mendez said. "Trying to pretend that I wasn't even in the room . . . little passive-aggressive things.

"As Dave is giving me a change, Bill will start yelling the same change — but his own version — because he'll think it's funnier. And I have to say, 'One at a time, I can't hear anybody!' "

On Wednesday, Oct. 8, the three were rehearsing in Letterman's backstage digs at the Ed Sullivan Theater when Mendez said he reacted to one of Scheft's interruptions, telling him, "I know what I'm doing. Get off my back."

But suddenly Letterman growled, "Tony, your sour disposition isn't helping," Mendez ­recalled.

"'You're the one who has the sour disposition, mothf–ker,''' Mendez snapped back.

Mendez admitted he was "pissed off," but said he and Letterman often traded off-color barbs. "That's how we talk," Mendez said.
"We tell each other 'F–k you' and 'Hey a–hole.'

"He doesn't do that with anybody — but he feels comfortable with me. That brings a bit of normalcy — because everyone else is like, 'Yes, yes, Mr. Letterman. If you want something impossible, yes, we'll do it, Mr. Letterman.'"

Still, Mendez said he was hurt by the exchange with his idol and boss of 21 years.

"That night I wanted to tell Dave how much that hurt my feelings," Mendez said. "And then I realized that this is what Bill was doing. He was trying to create a wedge between us so Dave would think I was an a–hole."

Mendez said he stewed all night and the next morning, when he got to work, he was literally at Scheft's throat.

"I just grabbed him by the shirt," Mendez said. "He was very surprised. He didn't say a word. He was cowering, his eyes were real big, he probably peed a little bit on his pants."

Mendez, 5-foot-7 but with a scrappy build, threw the taller, bespectacled, 57-year-old Scheft against a wall, two CBS sources said. "I'm the first one to say I should have never put my hands on him, but I never hit him. I just grabbed him and got my face in his face," Mendez said.
Mendez, who often appeared on camera for bits with the host and stars in his own web series on the show's YouTube channel, was likely facing the end of the road in a few months when David Letterman retires and hands his show over the Stephen Colbert. In a recent out-of-character interview with Slate's David Plotz, Colbert described his own special relationship with the woman who holds his cue cards.
Watch the most recent episode of Mendez's YouTube series below, via CBS:
[h/t AV Club]
[Photo via screengrab]
— —
>> Follow Matt Wilstein (@TheMattWilstein) on Twitter
Have a tip we should know? tips@mediaite.com