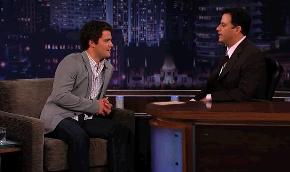 Levi Johnston was a guest on Jimmy Kimmel Live last night, because, no he's not a reality TV star yet, but he might be one day and, you know, what the hell. He's sort of the reality star of our lives already.
The interview is friendly, but Kimmel's pretty solid smackdown to end the segment leaves Johnston speechless.
Kimmel introduced Johnston as "to Sarah Palin what voicemail is to Mel Gibson." After asking what his status with the Palin family is at this point, Levi reveals he thinks it's finally over, for good. "I think they kinda kicked me out now," he said. "For permanently."
Instead, he's going to focus on being Mayor of Wasilla. "i think I'm gonna be the best mayor I can be," he told Kimmel. Kimmel pressed him: "But you don't really want to be the mayor actually right?" But since Kimmel "would love to see you become the Mayor" he helped him with some potential campaign slogans and swag. One bumber sticker: "Elect me Mayor or I'll date all your daughters."
The best part came at the end, with an analogy the Levi-haters (or Sarah Palin fans) will surely love. Kimmel couldn't contain his laughter as he laid this one out:
I want to congratulate you on is the torment you have – it's like there's this huge bear and you're this little mouse, just pecking away at the bear's feet. And the bear would like nothing more than to swat you and crush you and literally kill you, but you will not be killed.
And then, Levi was silent.
Here's part one, and below – the campaign advice:


Kimmel's campaign advice, and the bear/mouse analogy:


—–
» Follow Steve Krakauer on Twitter
Have a tip we should know? tips@mediaite.com