Levin And Cavuto Rail Against White House's Woodward 'Threats': 'If You Dare Question Us, You'll Be Screwed'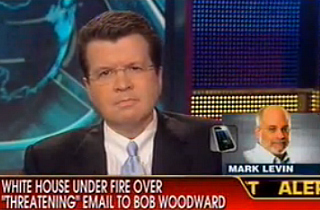 Conservative talk radio host Mark Levin phoned in to Fox's Your World this afternoon to go off on what he deemed to be the White House's "threatening" treatment of journalist Bob Woodward for his criticism of Pres. Obama's sequester talking points.
Cavuto began the show with an unusually long monologue that railed against the White House's handling of Woodward, and the subsequent mainstream media defense of the president's behavior and quickness to throw the esteemed journalist by the wayside.
"My problem isn't with the color of the president's skin, but with the thickness of his skin," Cavuto said after listing off the various ways he believes Obama has reacted poorly to criticism. Ultimately, he concluded, this Woodward ordeal represents the president breaking his normally "cool" demeanor to "threaten" a member of the press who disagrees with him.
"He's threatening the American people all he time, too," Levin added. "We have an imperial president that he doesn't ever want to debate his opposition truthfully about his record or the facts. He is always demonizing and creating straw men."
Levin insisted that the "threats" against Woodward are just "the tip of the iceberg" and there may be more "sleazy activity" beyond the emails. "He is threatening the American people," the talk radio host reiterated. "He seeks to smear and crush his opponents if he can't buy them off, and then tell the American people, 'Look at them over there, they're trying to destroy you.'"
Cavuto suggested the Woodward emails were a "seminal development" that moves beyond the stereotypical narrative of "just Fox yapping" against the president and into more dangerous territory now that someone like Woodward is on the butt end of "threatening" emails from the White House. "It sort of exposed an underbelly of something I've been telling people they should be aware of: whether it's the president or others involved, the fact of the matter is it's sort of like a wink and a nod understanding that if you dare question us, you will be screwed," Cavuto said.
While the leaked emails between Woodward and White House aide Gene Sperling have muddied the debate a bit — some say the exchange was "chummy" and that Woodward "invented the threat" — Levin and Cavuto both maintained that the exchange was clearly "threatening."
Cavuto lamented the fact that Obama is "a nice guy" with "a wonderful family" who, perhaps, has a few "hitmen" in his office that convey threats to disagreeable press outlets.
"He is not a nice guy," Levin brushed back. "That's the truth. He is not a nice guy. Republicans and consultants and candidates keep saying he is a nice guy, just over his head. But he is not a nice guy and he is over his head and he is an ideologue."
Levin concluded: "What bothers me is this public trust with the American people. He is abusing and it lying to us constantly. He is not a nice guy. […] He is surrounded by people that lie to us all the time. That's the truth. And what Woodward did he helped bring the veil down ever so slightly."
Watch the segment below, via Fox:
— —
>> Follow Andrew Kirell (@AndrewKirell) on Twitter
Have a tip we should know? [email protected]