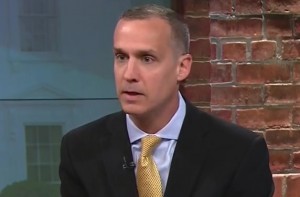 Former Donald Trump campaign manager and CNN contributor Corey Lewandowski falsely accused a Newsweek reporter of being a 9/11 truther after he published a negative story about Trump.
Kurt Eichenwald wrote a story Wednesday claiming that Donald Trump's vast international business dealings would present dozens of potential conflicts of interest if he were to become president. But Lewandowski insisted the report couldn't be trusted. "This is the same individual who said that he has information that George W. Bush was directly related to the 9/11 terrorist attack. This is the same individual who refused to fact-check this story with the Trump Organization," he said.
"He has zero credibility," Lewandowski continued. "It is a point of credibility. He has said that George W. Bush was directly involved with 9/11. He has no credibility."
CNN's Alisyn Camerota initially let that slide, but returned to the point a few minutes later after producers researched Lewandowski's claim. "I just want to clarify something. Kurt Eichenwald, I'm being told by my producers, said that George Bush ignored warnings before 9/11. Not that he was involved, that he ignored warnings. ," she said.
"I don't know. Is that true or not?" Lewandowski asked.
"Yes, it was sitting on his desk," she said. ("The 9/11 Commission found that," put in liberal commentator Christine Quinn.)
Still, Lewandowski persisted. "So he makes the intimation, at least, that George W. Bush allowed this to happen? That's completely egregious," he argued.
"I don't think so. I think it's that he ignored warnings," Camerota said.
Watch above, via CNN.
[Image via screengrab]
——
>>Follow Alex Griswold (@HashtagGriswold) on Twitter
Have a tip we should know? tips@mediaite.com