Lewis Black Compares The GOP To 'The Communist Party,' Jokes They Are Having 'Acid Flashbacks'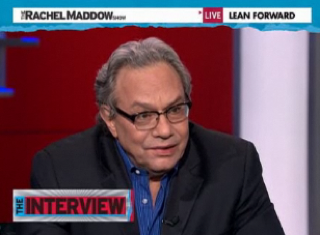 Comedian Lewis Black had a few things to get off his chest about the Republican Party last night on Rachel Maddow's show, before unwinding on her semi-regular cocktail segment. For one, he hates the "toe the line" mentality of the Republicans, considering it "as if it were the Communist Party." He also has some unsavory words for Rep. Eric Cantor, and concludes with a libertarian-sounding call to just leave everyone alone.
RELATED: The Daily Show's Lewis Black Goes Off On Whitney Houston Death Coverage
Maddow opened asking about right-wing opposition to comments President Barack Obama made that America should "be less mean-spirited and more generous," noting the similarity to that sentence with words said by President George W. Bush. "That is a different Republican Party," Black replied, adding, "I think of it as if it were the Communist Party– toe the line, here's what we think, that's the deal, screw him."
As one example of "meanness," Black cited Rep. Cantor– "he's the one that really gets to me"– not wanting to send funding to Vermont when Hurricane Irene hit Vermont. "We kind of have to remember that… even if the government forgets, whatever they do when something horrible happens, all these people get in their cars and drive over and help people," he argued– charity was at the core of American culture.
"Is there someone who is kind of the id of the Republican Party?" Maddow asked, noting that if there was a new party, there would likely be new leadership. Black didn't seem to think of anyone in particular, though he thought Newt Gingrich was part of it, and Rick Santorum "has always been on whatever that thing is he's on… he wants a free America, but you'd better do what he says to do!" He attributed the social conservativism to people having "acid flashbacks and they're having a flashback to what they consider a better time," though in the end he believed in people wanting "to do whatever they want to do as long as you don't bother them– that's what the country is founded on, that's why there is immigration!"
The interview via MSNBC below:

Have a tip we should know? tips@mediaite.com