Liberal And Conservative Fox News Guests Agree: Cities Shouldn't Ban Chick-fil-A For Marriage Views
Liberal And Conservative Fox Guests Agree: Cities Shouldn't Ban Chick-fil-A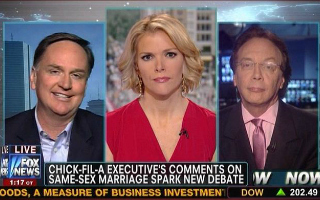 During her afternoon Fox News program Thursday, Megyn Kelly hosted a debate over the fallout from fast food chain Chick-fil-A's president openly stating the company's opposition to gay marriage. The mayors of Chicago and Boston both made statements condemning the company, adding that the restaurant is unwelcome to open shop within city borders.
"Our mayor does not have the power to say, 'Oh, I'm sorry, you did not pass our police inspection,'" said Boston Herald columnist Michael Graham. "'Please fill out this vermin on how you feel about abortion and gun control, wearing white after Labor Day, which of the Kardashian family members is still hot,'" he joked as other criteria a mayor could conceivably use to tell businesses they may not open there.
Kelly then pointed to a Chicago bureaucrat who has stated he'd likely reject a permit application from Chick-fil-A due to its anti-gay marriage views. Liberal commentator Alan Colmes spoke out against this behavior, saying that "As much as I object to what they stand for, I think it is wrong for the government to say we are going to deny you the right to operate here. The government should not stop a business from coming in."
Colmes did, however, defend Chicago Mayor Rahm Emanuel: "I think it is fine for a mayor to speak out, saying you don't represent the values of Chicago or Boston and you are not welcome here to read but i would not go so far as to say they would take legal action or legislate them from moving in."
"I want to thank Alan, in his limited ways, for standing up against the liberal premise," Graham responded.
Watch the segment below, via Fox News:
>> Follow Andrew Kirell (@AndrewKirell) on Twitter
Have a tip we should know? [email protected]