Liberal Blog Falsely Accuses Fox & Friends Of 'Inventing' Labor Statistics Conspiracy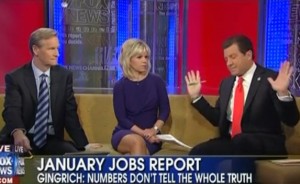 Friday's encouraging jobs report has resulted in predictable agita from Republicans, who are scrambling to figure out how to sell themselves, in an improving economy, to sane America. On Monday morning's Fox & Friends, Eric Bolling conspiratorially asked "Are they playing around with the numbers?"
The liberal blog Raw Story is accusing Fox and Friends of "inventing" a conspiracy around the jobs report, but that's not true; Bolling simply neglected to credit the inventor of this silliness, Rep. Allen West (R-FL).
In a segment devoted to the President's Super Bowl interview with Matt Lauer, Bolling made sure to keep his accusation sufficiently vague. Speaking about the people who have left the workforce (who are never counted in the monthly unemployment figures, no matter who the president is), Bolling said "Are they playing around with the numbers? It's the Bureau of Labor Statistics. It's supposed to be nonpartisan. Hilda Solis heads the Department of Labor. Hilda Solis works directly for Obama…"
"Are you saying they're cooking the books?" co-host Steve Doocy asked, helpfully.
"I'm saying there's room for error. there's a — when you're talking about four million people, how do you know?" Bolling responded. He and Gretchen Carlson pointed out that the jobs figures are "estimates," and that they "didn't make four million phone calls."
While it's impossible to vouch for the entire F&F crew, there's no doubt that Eric Bolling knows that every Secretary of Labor reports to every president, and that the unemployment figures are always based on a representative survey, and so on. He stopped short of actually accusing the administration, but imagine if, as a business reporter, someone asked Bolling if Company X was "cooking the books," and he essentially replied "Well, you never know!"
But it was helpful of him to point out that there's room for error, even if he didn't then go on to reveal that in January's jobs report, that room for error resulted in the November and December jobs numbers being revised upward by about 63,000 jobs. That's in addition to the 243,000 jobs created in January.
The liberal blog Raw Story accused Fox And Friends of "inventing" the "cooking the books" conspiracy, but they were actually just shoveling another bat's guano. When those encouraging jobs numbers first came out on Friday, Tea Party Rep. Allen West (R-FL) was quick to reach for the Reynolds Wrap:
There is something suspicious about the job numbers released today and it has me very concerned," West wondered Friday. "Is this dramatic supposed decrease in black unemployment a result of job creation or is someone playing around with the census numbers??"
Complicating matters is the fact that the Bureau of Labor Statistics included an adjustment to the total population, based on the 2010 census, which has some conservatives crying foul. However, no one has produced a single shred of evidence to suggest that January's jobs report was compiled using any unusual methods, or that this is anything but an apples-to-apples comparison. As Bolling stated, and January's revisions underscore, the figures are always subject to change, but there is absolutely zero reason to think anyone "cooked" anything. It would be pretty silly of the Obama administration to underestimate November's jobs gains by 60,000, then let those jobs get buried in January's revision.
Here's the clip, from Monday morning's Fox and Friends:
Have a tip we should know? tips@mediaite.com