Liberal Conference Heckles Nancy Pelosi For Saying Snowden 'Violated The Law': 'You Suck!'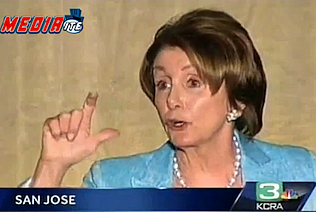 Nancy Pelosi was booed on Saturday, when she spoke to Netroots Nation about Edward Snowden and the NSA programs he revealed.
Pelosi first drew hackles from the progressive crowd when she stated that the government needed to strike a "balance" between security and privacy, with some screaming, "You suck!" A progressive blogger named Marc Perkel was removed after he began yelling, "It's unconstitutional! No secret laws!" The crowd again turned on Pelosi when she affirmed that Snowden "did violate the law in terms of releasing those documents." (In fairness, I can see how you don't like this, but how do you dispute it?)
There is a disconnect between the Democratic establishment, which feels that surveillance programs are necessary for national security and that Snowden broke the law in releasing information about them, and the Democratic Party's progressive wing, which thinks the above sentence kinda makes you sound like George W. Bush. The legal fate of Snowden has conflated the two issues, though Ben Smith made a good case today for keeping them distinct.
Pelosi eventually won the crowd over by directing their anger toward private defense consultants, like the one that employed Snowden. Via Dave Weigel, here's how Pelosi responded to a question about security outsourcing:
"I'm with you babe, all the way! If you couldn't hear her, the real problem, she said, is outsourcing our national security. I get criticized by this community a lot. [Former NSA director Mike] O'Connell worked at Booz Allen Hamilton, came in, worked in the federal government, exatled to the positions he was, hired consultants galore, contractors galore from Booz Allen Hamilton. And now he's at Booz Allen again. This really is astounding."
It should not come as a surprise that someone whose life is spent battling House Republicans isn't rattled by a few boos. Agree with her or don't, but Pelosi eats hecklers for breakfast.
Watch the clip here, via KCRA:
—
>> Follow Evan McMurry (@evanmcmurry) on Twitter
Have a tip we should know? tips@mediaite.com