Liberal Crusade To Define Republican Attacks On Obama As Racist Descends Into Parody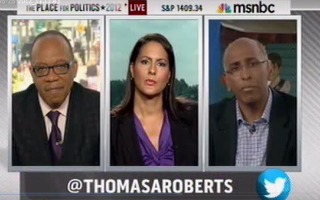 In the recent past, some of President Barack Obama's most ardent supporters have claimed that much opposition to the President's candidacy for reelection is linked in some subtle – even unconscious – way to racial antipathy. The post-racial nation of 2008 has suddenly become just as, if not more, racial than it was in the mid-1960s. The crusade to convince the nation that Obama's opponent's motives are either base or disingenuous has had no firmer allies than the panel guests (and occasional host) on MSNBC. But the accusation of racism on the part of Republicans has surged in recent days as the GOP's faithful gather in Tampa for their presidential nominating convention. Amid this surge, MSNBC's guests and hosts run the risk of becoming a caricature of themselves. However, signs are arising that the network is aware that it could be damaging their brand with the excessive invocation of racial hatred lurking within the nation's tens of millions of average GOP voters.

The latest evidence of the GOP's racially coded attacks on Obama comes in the form of Republican attacks on the White House for allowing states flexibiliy in redefining work requirements for welfare recipients. In a segment on this issue, MSNBC anchor Thomas Roberts played a clip of former Pennsylvania Sen. Rick Santorum attacking Obama for "waiving the work requirement" in welfare. Santorum called the Obama administration's move a "serious assault" on the 1996 Welfare Reform law.
MSNBC panel guests Democratic strategist Karen Finney and Washington Post columnist Eugene Robinson battled former Republican National Committee Chairman Michael Steele over the impression that attacking Obama on the issue of welfare amounts to the sounding of a shofar, audible only to racially insensitive white voters, to remind them that Obama is an African American president who favors his African American constituency over all others.
Steele protested, asking why "welfare" meant "black" to his fellow panelists because more whites are actually on welfare rolls. "Study after study has shown, very recently even, that Americans – we tend to associate welfare programs with black people," said Finney. "So, if you didn't know that, then shame on you. If you did know that, then shame on you."
So, progressive analysts can have it both ways. The American people are either far too removed or disinterested to know the facts about welfare recipients, so Republican attacks on welfare can be racially coded even if they're not. It would be laughable if it were not so depressing.
"What the Republicans are doing is diabolically clever, I think," said Robinson. "They are, I believe, playing subliminally to racial fears and racial resentments."
"[Republicans] believe that this is a winning issue for them," said Finney of attacks on Obama for allowing states to amend welfare's work requirements. "Unfortunately, I think it's part of the dog whistle politics – we've talked about this much over the last several days."
Boy, that last sentence is one heck of an understatement. The notion that Republicans are engaging in subtle, "dog whistle" racism has been the staple topic of MSNBC's editorial programing for much more than the last several days. On the 27th alone, MSNBC's hosts and guests invoked the term "dog whistle" no less than 13 times according to the television monitoring service TVEyes. That is a rapid increase from just three mentions last Friday and only one on the 23rd and three on the 22nd.
But its possible that the tipping point has been reached and we are in the midst of a scaling back of these ludicrous and cheap attacks on Republicans.
In a perfect moment of projection, iconic MSNBC host Chris Matthews went off the rails on Monday when he delivered a frothing monologue attacking the RNC Chairman, Reince Priebus – to his face – for presiding over a party that is actively attempting to divide the nation on racial lines.
After this lamentable moment, Matthews gave a detailed interview to Politico explaining why his statement was justified and why he feels so strongly about the issue. While Matthews doubled down on his attacks in that interview, that he had to explain himself alone portends a change in editorial tone. No one has to explain themselves having been clearly understood the first time.
If we have reached a zenith on the "dog whistle" attacks, it is appropriate to issue a brief postmortem on this editorial strategy.
There is a level of industriousness to the notion that the GOP is speaking in encrypted language that requires a decoder ring to decipher. The suggestion that the GOP's appeal to the nation's dwindling racists is so subtle that most folks require an interpreter to know when a "dog whistle" has been sounded is the invention of an entire industry. The scourge of subliminal racism is a problem that liberal political analysts can see and the definition only they can arbitrate.
In the grand scheme of inventing utility and market advantage, this is a pretty deft niche that the left-leaning cable news network has carved out for itself.
"Republicans as bigots" is a rather clever cottage industry. Lord knows, no one pushes out more "dog whistles" than MSNBC. But it seems as though they are preparing to curb production on their novelty product, lest they oversaturate the market. After all, there has to be demand for any product, and this is one that no one is buying anymore.
> >Follow Noah Rothman (@Noah_C_Rothman) on Twitter
Have a tip we should know? [email protected]