Liberal Guest Mocks Hannity For Suddenly Being 'Concerned About The Poor' In Fight Over Obama Economy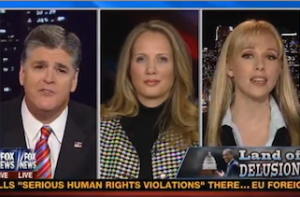 Sean Hannity got into a shout-fest Monday night with liberal Occidental College professor Caroline Heldman over the economy that was reminiscent of Bill O'Reilly's recent showdown with Alan Colmes. Hannity put forth the notion that Democrats, like MSNBC's Chris Matthews and House Minority Leader Nancy Pelosi, were attempting to put a false positive spin on the Obama economy and needed a "reality check."
Heldman, who has appeared in the past on The O'Reilly Factor, objected to Hannity's characterization, pointing to he 7.7% unemployment rate and growth in the housing and manufacturing sectors as evidence that the economy is improving under President Obama.
As Heldman spoke, Hannity continually berated her for trying to blame the country's economic woes on Bush, often with the help of Breitbart.com columnist Kerry Picket. But the real fireworks came when Hannity called out Pelosi for heralding the stock market gains and asking, "those people on food stamps, are they investing in the stock market?"
Heldman offered no defense for Pelosi but rather responded with, "I'm impressed that you're now concerned about the poor, thank you for that."
Hannity shot back, sarcastically, "Only Democrats care about poor people. Only democrats want clean air and water. Only Democrats care about not killing old people."
"Unfortunately, I would agree with you on most of those points," Heldman answered before offering more examples of how the economy in improving. She concluded her argument against Hannity by saying, "You're blaming the wrong person here. We should be blaming Wall Street, they tanked our economy."
Hannity titled his segment "Land of Delusion" and aimed to show that Democrats were living in a world untethered to reality. By the end of the argument, both Hannity and his liberal guest were using their own set of "facts" to bolster their differing points of view.
Watch video below, via Fox News:
—
>> Follow Matt Wilstein (@TheMattWilstein) on Twitter
Have a tip we should know? tips@mediaite.com