Liberal Guest To Hannity: 'Most Republicans Are Fat Asses,' Health Care Costs High Because Of Them
Liberal Guest To Hannity: 'Most Republicans Are Fat Asses...'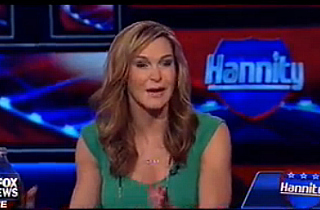 While you all were busy watching, and re-watching, the explosive battle between Sean Hannity and Rep. Keith Ellison (D-MN) last night on Fox's Hannity, another kerfuffle took place during the show, albeit with a much friendlier ending.
During a debate on NYC Mayor Michael Bloomberg's "nannying" public health policies, Fox liberal contributor Tamara Holder said that "most Republicans are fat asses," and lamented how "fat Republicans who drive through Wal-Mart in their buggies" are partially responsible for the increased healthcare costs that she believes made ObamaCare necessary.
After introducing the fact that Bloomberg would like to take his ban on large sugary beverages to the statewide level, Hannity took a big — as Holder called it: "disgusting" — bite from a glazed donut. Holder then tried to explain a possible rationale for Bloomberg's food laws:
"You know why? All Republicans, or most Republicans, are fat asses and get stuck eating these things," she said.
"You're calling me a fat ass?" Hannity asked. "I've been called a yellow journalist, immoral, a liar, and now a fat ass. What a night is this?" he joked.
Isn't it funny that the Republicans, the most conservative Republicans are from the south?" Holder continued. "And they're the fattest."
As Imus producer Bernard McGuirk lit up a cigarette in-studio (yes, this segment quickly went off the rails), Hannity asked to bum one of those as Holder continued to lament overweight conservatives.
Eventually Holder agreed that "the government shouldn't regulate [personal decisions] and we're in control of ourselves," but, she said, "what happens is the Republican overeat and they overindulge in everything."
"And Democrats don't overeat?" Hannity shot back, still chewing on a donut.
"Why do we have ObamaCare? Because the fat Republicans who drive through Wal-Mart in their buggies," Holder explained.
"What about the fat Democrats?" Hannity asked. "There are plenty of fat Democrats."
Holder challenged Hannity to name names of the non-existent "fat Democrats."
Seeing the obvious that yes, overweight Democrats do exist, Holder delivered the quip: "Well, not this Democrat."
"Oh, good grief," Hannity said.
Watch below, via Fox News:
[h/t BuzzFeed]
— —
>> Follow Andrew Kirell (@AndrewKirell) on Twitter
Have a tip we should know? tips@mediaite.com