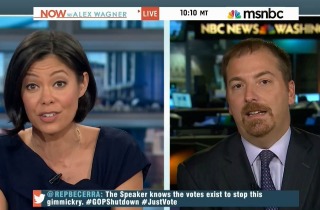 The Republican Party is the political home of plutocrats, corporate raiders, and big business interests, beholden to Wall Street at the expense of the calloused everyman on Main Street, you say? That is so 2012.
On Tuesday, Democrats in the media united to contradict the campaign year pronouncements that served their political goals less than 12 months ago.

"Does all this talk coming out of the house maybe it wouldn't be so bad to default, does that push moderates to link arms and pass that bill?" pressed MSNBC host Alex Wagner on Tuesday in a question to NBC News Chief White House Correspondent Chuck Todd. "One would think outside pressure from Wall Street and donors hearing the rhetoric that they are would maybe push the moderates to action."
"This has been the assumption for three years and hasn't really worked," Todd replied. "The Chamber of Commerce and business community doesn't have the influence inside the Republican Party that it used to."
Todd and Wagner are joined by liberal "wonk" and Washington Post blogger Ezra Klein who, in a post on Monday, lamented that one of the reasons why Washington no longer functions is that "big business has lost a lot of its power over the Republican Party."
Groups which previously held sway over Republican decision making, like the Club for Growth and the Business Roundtable, are seeing the limits of their influence over the House GOP.
"There are plenty of times when the business community's agenda diverges from the public interest. But the business community needs a functioning government and a growing economy just as much as everyone else does," Klein writes. "The problem is they helped elect a group of Republicans that isn't particularly interested in such mundane matters of effective governance."
And just think it was just 18 months ago that astute analysts like The Los Angeles Times' David Horsey were castigating the GOP, echoing the sentiments of the Obama campaign's most rabid supporters, for being a party that "suckles at the breast of big business."
[Photo via screen grab ]
— —
> >Follow Noah Rothman (@NoahCRothman) on Twitter
Have a tip we should know? tips@mediaite.com