Gaddafi Son Saif Al-Islam Not Captured, Appears On Supporters' Shoulders In Tripoli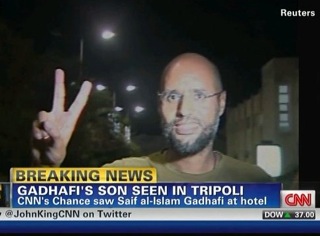 A member of the Libyan government has finally come out in public and confirmed he is alive and relatively well since the rebel forces (aided by NATO) entered the capital of Tripoli this weekend. Muammar Gaddafi's son, Saif al-Islam Gaddafi, reportedly appeared at a hotel in the city where most journalists are harbored and confirmed to them that he is fine, later wandering the streets on the shoulders of supporters.
The initial reports of Saif Al-Islam's appearance in Tripoli came from Twitter, where it was first rumored that he was out and about, and subsequently confirmed by CNN's Matthew Chance, who is staying at a hotel in Tripoli, that Gaddafi's son had entered the hotel where most journalists were headquarted and spoke face to face with them, after initially calling a "press conference" without showing up. Images later surfaced on networks like Al-Arabiya and subsequently made their way to CNN, where the younger Gaddafi was displayed speaking to cameras and being held on the shoulders of supporters in a Gaddafi-friendly area of Tripoli.
Reports are still rolling in of how Saif Al-Islam ended up at the hotel, though his version (according to the BBC and various other sources) of the story appears to be that the rebels were lying about him being in custody in the first place, and that his father was alive and well in Tripoli. It is also unclear if Gaddafi will appear in public, or what his son will do from here.
Initial images via CNN below, followed by Fox News' report (whose reporter managed to interview Saif al-Islam from Tripoli):

Have a tip we should know? [email protected]