Libyan Pres. To Ann Curry: Consulate Attack 'Pre-Planned,' Had 'Nothing To Do With' Anti-Islam Film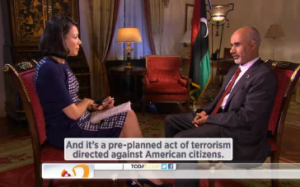 There's "no doubt" the attack on the U.S. consulate in Benghazi was a "pre-planned act of terrorism," Libyan President Mohamed Magarief said in an interview with NBC's Ann Curry. It had no relation to the anti-Islam film that recently caused controversy, he added.
Asked whether he'd label the attack terrorism, Magarief replied, "I have no doubt about that. And it's a pre-planned act of terrorism directed at American citizens."
Curry followed up, asking for Magarief's evidence to support that assertion. He pointed to the attack's date, coinciding with September 11 — as well as the "way it was executed." There's enough proof, he said.
President Barack Obama "stopped short of calling it a terrorist attack," Curry noted. Magarief responded by reiterating how he's describing it, adding that Obama and Secretary of State Hillary Clinton may refer to it as they see fit.
The attack's "high degree of accuracy" reveals the "perpetrators must have some kind of exercise," he said, "on how to hit and how to launch these attacks." Asked about the controversial anti-Islam movie, Magarief replied, "It has nothing to do with this attack."
"I think it's Al-Qaeda elements who are hiding in Libya," he said, referring to who he believes was behind the incident — but conceded there's no direct evidence so far to support that.
Pressed for more information, more facts about what they've learned so far about the attacks, Magarief quietly but firmly said he couldn't disclose anything else in the interest of not interfering in the investigation.
In the same interview, Magarief dismissed the notion that Islamic fundamentalists threaten to turn Libya into a theocracy.
"This will never happen," he said. "They don't have the strength. They don't have the supporters. They will remain a minority that's isolated, that will not be accepted by us. And I'm sure Libyans will fight to the last man against seeing this happen in our land."
He also reaffirmed Libya's relationship with the United States, calling the U.S. "a strong friend who stood with us in our moment of need."
Magarief's response to the attacks below, via NBC:

Have a tip we should know? tips@mediaite.com