Libyan Woman Bursts Into Journalist Hotel To Report On Rape, Beating By Gaddafi Militia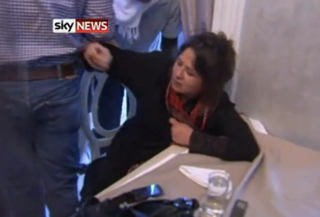 Largely missing from the dramatic story of the uprising in Libya has been the plight of that nation's women, as men have comprised nearly all the rebel troops and protesters. That changed in truly disturbing form today as a Libyan woman made her way to a journalist hotel in Tripoli, shouting that she had been raped, beaten, and psychologically abused by 15 of Muammar Gaddafi's soldiers.
The woman, Eman al-Obeidy, exhibited various wounds on her legs, hands, and face, and told reporters there that she had been defecated and urinated on, as well as raped by 15 men. She pleaded with those in the hotel lobby to help her, that she would be immediately apprehended by Gaddafi's forces upon leaving the hotel again. The New York Times reports:
Ms. Obeidy said she was a native of the rebel stronghold of Benghazi who had been stopped by Qaddafi militia on the outskirts of Tripoli. After being held for about two days, she said, she had managed to escape. Wearing a black robe, a veil and slippers, she ran into the hotel here, asking specifically to speak to the Reuters and The New York Times. "There is no media coverage outside," she yelled at one point.

"They swore at me and they filmed me. I was alone. There was whiskey. I was tied up," she told Michael Georgy of Reuters, the only journalist who was able to speak with her briefly. "I am not scared of anything. I will be locked up immediately after this." She added: "Look at my face. Look at my back." Her other comments were captured by television cameras.
While al-Obeidy attempted to give her account, journalists did their best to shield her from hotel staff– at this point brandishing knives at her– and Libyan security poised to take her away. The Times reports security attempted to destroy film equipment (successfully breaking a CNN camera), and eventually took al-Obeidy away. Libyan authorities later reported they believed her to be "drunk and mentally ill" and guaranteed her "safety," though reporters have no knowledge of where she is currently being help.
Footage of the scene in Tripoli via Sky News below (warning: these images are very disturbing):



[h/t The Blaze]
Have a tip we should know? tips@mediaite.com