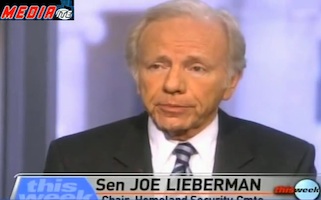 As Joe Lieberman's recent gambit on the health care bill shows, the senator from Connecticut is not afraid to take unpopular — though often effective — stands. Yesterday, on This Week With George Stephanopoulos, Lieberman came to the defense of America's detainment center at Guantanamo Bay, which he acknowledged had a "bad reputation," but called a "humane" place.
Lieberman's remarks came in the context — no surprise — of the question of how Northwest Airlines Flight 253 attempted bombing suspect Umar Farouk Abdulmutallab should be detained. Lieberman said that he should be "treated as a prisoner of war" and "held in a military brig," and launched into a broader discourse on the direction (or misdirection) of the War on Terror under President Obama:
I'm one who believes that Guantanamo should not be closed. It — it is a — I know it has a bad reputation. I know the president promised during the campaign that he would close it. But the president is in charge of what happens at Guantanamo now, so some of the abuses of the past are not going to happen.
You could not find a better, more humane facility when it comes to a detention center in the world. It seems like a waste to me to take these people to Illinois.
"Humane" is a rather surprising word in the context of Guantanamo: in 2004, the International Committee of the Red Cross charged American military stationed at Guantanamo with using techniques that were "tantamount to torture." Guantanamo, for its part, was found to have confidential policies in place that barred Red Cross monitors from seeing detainees.
But in one respect, Lieberman is squarely on the side of popular opinion: almost two thirds of Americans oppose closing Guantanamo Bay and moving terror suspects to American prisons like the one in Illinois.
(h/t Raw Story)
Have a tip we should know? tips@mediaite.com