Life Imitates Art: Herman Cain's 'Leader Not Reader' Comment Was A Simpsons Reference?
Life Imitates Art: Herman Cain's 'Leader Not Reader' Comment A
Simpsons
Reference?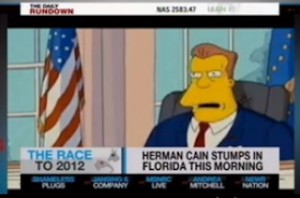 Herman Cain is, among other things, a very charming and entertaining individual. But is he presidential? This is a question that has been on the minds of the nation's top political analysts and commentators since Cain's surprising rise to the top of the GOP polls. Recent comments made by the former Godfather's CEO have appeared to raise some collective eyebrows, in particular his recent claim that he's a "leader not a reader." Filling in as host of Daily Rundown, WaPo columnnist Chris Cillizza noticed how, intentionally or not, it seems like Cain's comment was a reference to The Simpsons.
Cillizza's core question to his panel was whether or not punchlines can ever be elected president (they can't.) And while MSNBC detractors might see the following segment as just another example of a progressive cable news outlet hitting a conservative candidate, the issues raised by Cillizza and his panel, are completely and totally legit. The reference of Cain's oversimplified rhetoric to a Simpsons parody is at once a great pull, and a horrifying comment on the state of today's political discourse. Yesteryear's satire is today's reality?
Sidenote: it's time to include Chris Cillizza in the list of growing talent at MSNBC. His interim hosting of Chuck Todd show is a pitch perfect example of how a print columnist can make a seamless transition to television. Cillizza exhibits smarts, humor and a relaxed nature that makes one think that he could/should have his own show on MSNBC in the next year.
Watch the clip below, courtesy of MSNBC:
Have a tip we should know? tips@mediaite.com
Colby Hall - Founding Editor