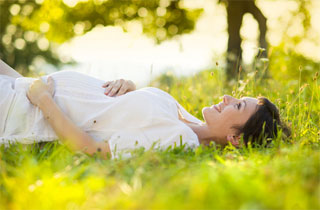 [WARNING: VERY NSFW MATERIAL BELOW. PROCEED WITH CAUTION.]
Lifetime announced yesterday that they were picking up a new reality TV series called Born in the Wild, depicting women giving birth to actual human babies, without doctors, in the wilderness.

Does this seem unfathomable to you? Here is the actual press release from Lifetime describing the show:
For expecting mothers and fathers in their third trimester of pregnancy, things couldn't get much wilder. From the mood swings and false alarms to the crazy food cravings, learning to expect the unexpected becomes a way of life in the final days leading up to birth. But what happens when the craziest experience of a woman's life becomes truly wild, and soon-to-be parents decide to take on an unassisted birth in the outdoors?
The network insisted to Entertainment Weekly that they'd take the proper precautions — no first-time mothers would be allowed to participate, there'd be emergency staff on hand, all birthing locations would be close to a hospital, etc — but believe that ultimately, a show based on a popular YouTube video would bring eyeballs to the network.
Oh, did we mention that the show was inspired by a YouTube video? Specifically, the one below, which racked up 20 million hits. BEWARE THIS IS VERY NOT SAFE FOR WORK, life, or a work-life balance:
In an interview, an OB-GYN bluntly told EW that giving birth in the middle of the woods was a phenomenally dumb idea for obvious health reasons (mothers often died from childbirth before modern hospitals existed). Moreover, televising this dumb idea is even more dumb:
Even with the safety measures in place, however, [Ron Jaekle, MD, a maternal-fetal medicine specialist at the University of Cincinnati Medical Center] insists Born in the Wild "doesn't make any sense." He contends that even with modern medical care, just giving birth at home — let alone in a forest — is demonstrably more risky. "[The number of children impacted] is a small number — until it's your kid," Jaekle says of home birth complications. "They can't possibly make it safe enough to not [eventually] have a problem that will need a medical intervention to save the day. And then [the producers] won't interview the docs in the ICU who will say, 'This would never have happened if she had been in a hospital.'"
While EW didn't interview a child psychiatry expert on the dangers of everyone knowing your mom gave birth to you, naked, in the woods, and on camera, we'll hedge a guess and say that it seems slightly traumatic.
[EW]
[Image via Shutterstock]
—
>> Follow Tina Nguyen (@Tina_Nguyen) on Twitter
Have a tip we should know? tips@mediaite.com