'Like A War Zone': Father Shares Frightening Story Of Trying To Rescue Son From School As Tornado Hit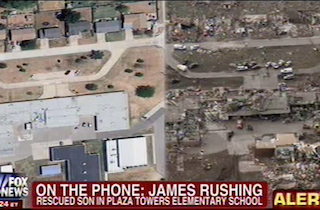 As the tornado approached Moore, Okla., James Rushing hurried to the elementary school to get his five-year-old foster son Aiden. Describing the "ungodly amounts of debris," Rushing shared his frightening story on Fox & Friends. The scene, he said, "looked like a war zone."
Rushing lived across the street from the school and decided to make his way over. Once there, he described how "the roof just totally peeled off the school just instantly" — forcing him to take shelter in one of the bathrooms along with some of the other children.
"It actually took about two minutes before it started to calm down a little bit," he informed. "All I could do was come outside of the building and start hollering out his name, as many of the other parents that actually got trapped in the school with me was doing as well."
"Inside, you had to crawl over ungodly amounts of debris to even get to the outside," Rushing described. "When you got outside, it looked like a war zone. There were no houses left. Mine was totally demolished. then you turn around and look at the school, and the school was totally demolished."
Rushing was eventually reunited with his son ("I could hear him hollering, 'Daddy' and coming to me"), who kept telling him, "It was really loud." Had he been able to get his son out of the school, Rushing said he would have gone to his neighbor's storm shelter.
"I'm kind of glad that I didn't," he said, "because his house was caved in onto his storm shelter."
Watch below, via Fox News:

Have a tip we should know? tips@mediaite.com