Limbaugh Amazed That CNN's Burnett Agrees With Him On Hillary: 'Will Americans Want To Watch A Woman Get Older?'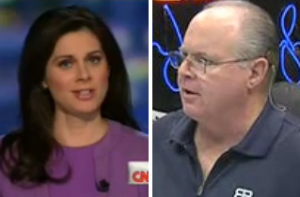 Rush Limbaugh couldn't quite believe what he heard on CNN's OutFront last night. During a story about Hillary Clinton's political future, host Erin Burnett played a clip of Limbaugh discussing Clinton's presidential campaign back in 2007 when he asked, "'will Americans want to watch a woman get older before their eyes on a daily basis?" Burnett said there was truth in his comment then and wondered if anything has changed.
Limbaugh turned around and played the CNN clip on his radio show today, expressing some disbelief that the CNN host seemed to agree with his statement so fully. As Limbaugh describes it, he was making a "sympathetic" comment about how the media treats women in the worlds of celebrity or politics, of which Clinton belongs to both. But, he added, the media "heard only an insult" to Mrs. Clinton and pilloried him for his comments over the following days.
The backlash he received in 2007 made it all the more surprising when Burnett dug up those comments for her segment last night and presented them in a more positive light. She acknowledged that his statements "made a lot of people mad" but said that's "because at the time he said it, it was probably true." After playing the audio for her guests on CNN, Burnett said, "You know what? There is truth in that. What's changed?"
Limbaugh did not agree with the answer Burnett received from her guest, Democratic strategist Kiki McLean. "I think that there will always be people that care more about what's on the skin than what's in the brain," McLean said. "The reality is most Americans are going to pick who serves them, based on what they believe they can do for them and the kind of leader they can be."
Making a statement that Burnett is unlikely to agree with, Limbaugh said that contrary to what McLean said, the Democratic Party "doesn't see anything but the skin, and it's color." He added that the same goes for gender and sexual orientation. He insisted that "one of the reasons Obama was elected was because he's black," not despite that fact. And he maintained that if any group cares more about "what's on the skin than what's in the brain" it's the Democrats.
Listen to audio below, via Rush Limbaugh:
And watch video of the CNN segment below:
—
>> Follow Matt Wilstein (@TheMattWilstein) on Twitter
Have a tip we should know? [email protected]