Limbaugh Hits CNN's 'Tired And Worn-Out' Piers For Using Old Clip To Promote Crossfire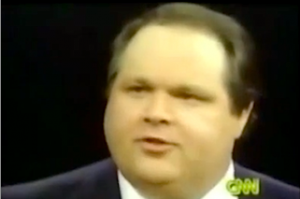 Rush Limbaugh is not looking forward to CNN's new version of Crossfire. The radio host took particular offense to the fact that the network appears to be "promoting" the new show by using archived footage of Limbaugh sparring with former Crossfire host Michael Kinsley all the way back in 1990.
Piers Morgan played the 23-year-old clip on his show Wednesday night before inviting the four new Crossfire co-hosts–S.E. Cupp, Van Jones, Newt Gingrich, and Stephanie Cutter–to have their first on-air debate over gay marriage and the Texas abortion filibuster.
On his show today, Limbaugh played a clip of Morgan pointing out the "younger Rush Limbaugh" on the original version of the show. Though he notably cut the CNN audio off before Morgan made his next statement: "Tonight the great news is that he's not back on Crossfire. He's too old and too boring."
"Of course, I have nothing to do with it but there they are using me," Limbaugh said of CNN. Though he left out the more damning part of what Morgan said about him, he still referred to the CNN host as "tired and worn out."
"Anyway, I've got nothing to do with the program," Limbaugh continued, "but it's just the case that every network uses me to sell their warmed-over shows that nobody wants to watch." Pointing out the fact that every other cable news show has become more like the original Crossfire since it went off the air in 2005, he added, "You can see Crossfire every night, day, whatever, on any cable TV channel."
Listen to audio below, via Rush Limbaugh:
And in case you missed the original flashback clip from
Piers Morgan Live
, you can watch that below, via CNN:
—
>> Follow Matt Wilstein (@TheMattWilstein) on Twitter
Have a tip we should know? tips@mediaite.com