Limbaugh: Obama Hid Golf Game With 'One Percenter' Tiger Woods Because It Would Confirm He's Rich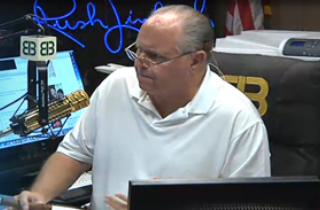 Conservative radio host Rush Limbaugh theorized on his Tuesday program that the press was not allowed to snap a picture of President Barack Obama playing golf with Tiger Woods because the president did not want to be seen enjoying the company of a wealthy athlete. Limbaugh said that a picture of Obama playing golf with Woods "just rams it down the throats of the middle class" that Obama is also rich.

RELATED: President Obama Laments Rush Limbaugh And Fox News' Influence On Public Debate
"Tiger's a one percenter," Limbaugh said. "The fear of the photo op had nothing to do with the fact that Tiger's had a whole bunch of different girlfriends."
Limbaugh played a clip of CNN anchor Erin Burnett interviewing a former Obama administration official where she asked if the president being ashamed of his wealthy friends. "I think that we should be reporting on the sickening influence of money in politics, but I also think that is, unfortunately, the world we live in," the official noted.
"See," Limbaugh said. He mocked the notion that Obama spends time with wealthy individuals only because of the necessity of campaign fundraising.
"If you are a successful, national-level politician – and Obama claims to be that – then you can't afford to hang around with people who aren't going to give you money," Limbaugh declared. "You must hang around with the wealthy. But you don't want pictures of it — because that just rams it down the throats of the middle class — that you actually aren't one of them, and that you don't want to be one of them, and that you don't want to hang out with them."
"I think it's safe to say, folks, that Obama's now spent more time with Tiger Woods than he has with the Republican leadership," Limbaugh said.
Listen to the segment below via The Rush Limbaugh Radio Show:
> >Follow Noah Rothman (@NoahCRothman) on Twitter
Have a tip we should know? tips@mediaite.com