Limbaugh: 'Terrified' By Obama's Presser 'Disaster,' Media Pushing President To Be More Aggressive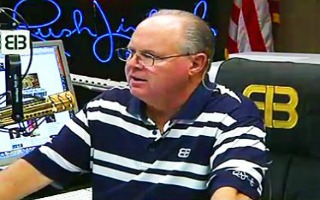 Conservative radio host Rush Limbaugh said on Wednesday that the media's reaction to President Barack Obama's press conference on Tuesday has been one of terror. "They think it was a disaster yesterday," Limbaugh said, "and they're petrified." He noted that some prominent members of the political media are actively warning the president that he risks becoming an ineffective lame-duck if he does not behave more aggressively in his dealings with his political opponents.

RELATED: Limbaugh Flattered By WHCD Shout-Out: Obama 'Praised Me For Daring To Say What Actually Is'
Limbaugh observed that the media is coming to terms with the fact that the Democratic Party is unlikely to take control of the House in 2014. Furthermore, the effort to demonize the GOP over their opposition to guns and tax increases to avert the sequester has failed.
It is then interesting, Limbaugh said, that so many writers are noting that Obama's behavior in Tuesday's press conference suggests his detachment and his ineffectuality. "Part and parcel of all these guys expressing their concern, I think, is the media pushing Obama to be more aggressive," Limbaugh said.
"The press just doesn't sit there when their guy is screwing up and say, 'Okay, he's screwing up,'" Limbaugh opined. "They try to fix it for him."
Limbaugh turned to Washington Post columnist Dana Milbank and National Journal editorial director Ron Fournier both made comparisons between Obama and former President Bill Clinton who, in his second term, was forced to assure the press that he was "still relevant."
"Most disgustingly of all," Limbaugh said, "Fournier seems to be yearning for a tragic event like Clinton got with the OKC bombing that the media can rally around to save Obama's presidency."
Limbaugh read another piece in POLITICO revealing White House advisor Valerie Jarrett's role, which is in part to keep a cadre of admirers around Obama to prevent significant criticism from reaching him. "What we've got here is a king," Limbaugh declared. "And nobody dares tell him anything but what they think he wants to hear."
Limbaugh concluded by saying that it is clear to him that the press is sending signals to Obama indicating that they are nervous he may no longer be the person they supported in 2008 and 2012.
Listen to the segment below via The Rush Limbaugh Show:
h/t Daily Rushbo
> >Follow Noah Rothman (@NoahCRothman) on Twitter
Have a tip we should know? tips@mediaite.com