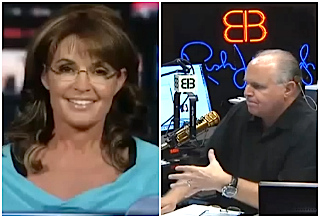 Rush Limbaugh explained on his radio show Tuesday why he's so quick to defend Sarah Palin, and every other conservative for that matter. When any conservative has "come under assault," Limbaugh said, he's "defended them to the hilt because of the cause."
"I know that it's an effort to undermine everything I believe," Limbaugh continued. "They attacked Palin, they attacked Ollie [North], they attacked Clarence Thomas, they're attacking us–me!" He said "it's not just enough" to go on the radio and quote what people are saying about someone like Palin, he has to come to their defense.
Limbaugh explained that he wrote his new book, Rush Revere and the Brave Pilgrims
in order to counter anti-conservative messages that are reaching children. "Why would you write a book about how the left has corrupted education," he asked, "if you didn't have some desire to fight it?"
The host urged conservatives to get over their "fear of the media" and "fear of Obama's race" and not hold back their criticism of the president. "Those of us who fight back upset the apple cart of those who just want to sit there and accept it," Limbaugh said. It's this mentality, he said, that causes conservatives to go after their own in the form of Senators Ted Cruz (R-TX) and Mike Lee (R-UT) along with people like Palin.
"What are they going after Ted Cruz for? What's he done to anybody? It's Obama they ought to be going after! Why are they going after Mike Lee? That's why we defend these guys. They're out there actually trying to beat this stuff back, and they're doing it because they love the country. They're doing it because they're shocked and saddened by what they're seeing happening here, and they don't think it's time to give up.

Look how rare that is! Sarah Palin, the same thing."
While Limbaugh is apparently willing to defend anyone he believe to be a true "conservative" he has also not hesitated to call out those who he think may have abandoned his team. Just last week, he questioned Charles Krauthammer's loyalty to the conservative cause, causing the Fox News contributor to fire back that Limbaugh "ought to listen to what I said."
Listen to audio below, via Rush Limbaugh:
[h/t Mofo Politics]
[photo via screengrab]
— —
>> Follow Matt Wilstein (@TheMattWilstein) on Twitter
Have a tip we should know? tips@mediaite.com