Lindsey Graham: 'A Citizen Can Be An Enemy Combatant,' And Tsarnaev Should Be Treated Like One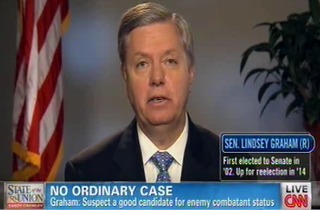 On Sunday, Sen. Lindsey Graham (R-SC) joined Candy Crowley on CNN's State of the Union and described why he thought that Dzokhar Tsarnaev, the alleged Boston bomber taken into custody on Friday night, should be treated as an enemy combatant in the war on terror. Graham said that the suspect cannot be tried in a military tribunal and should have access to his rights as an American citizen, but this is not inconsistent with treating him as an enemy combatant with access to key intelligence.

RELATED: Megyn Kelly Guests Clash Over 'Enemy Combatant' Designation For Suspect: 'This Is The Ultimate Act Of Terror'
Sens. Graham and Chuck Schumer (D-NY) agreed that there were many questions left unanswered, including how radicalized the older Tsarnaev brother had become while in Chechnya and why the FBI interviewed him and determined that he was not a threat.
Crowley asked Graham if it was appropriate for the FBI to have a "red flag" put on a suspect individual indefinitely. Graham replied that it was not, but said that there appears to be evidence to suggest that the FBI missed an opportunity to prevent a violent terror event from occurring.
"The ball was dropped in one of two ways; the FBI missed a lot of things, is one potential answer, or our laws do not allow the FBI to follow up in a sound, solid way," Graham said.
"There was a lot to be learned from this guy. He was on websites talking about killing Americans. He went overseas, as Chuck had indicated. He was clearly talking about radical ideas. He was visiting radical areas. And the fact that we could not track him has to be fixed."
"It's people like this that you don't want to let out of your sight," Graham added. "I don't know if our laws are insufficient or the FBI failed, but we're at war with radical Islamists and we need to up our game."
Crowley asked Graham to expand on his insistence that Dzokhar Tsarnaev be treated as a terrorist and not a criminal by law enforcement. "I think this argument is lost on most people," Crowley said.
Graham said that Tsarnaev should receive a fair trial in an American court and be defended by a capable attorney. That said, the information that he has relating to a broader terror network or future events is invaluable and that information can be made available to authorities if the suspect is treated as a combatant.
"When the public safety exception expires, and it will here soon, this man in my view should be designated as a potential enemy combatant, and we should be allowed to question him for intelligence gathering purposes to find out about future attacks and terrorist organizations that may exist and he has knowledge of."
"That evidence cannot be used against him in trial – that evidence is used to protect us as a nation," Graham continued. "Anytime we question him about his guilt or innocence, he's entitled to his Miranda Rights and a lawyer, but we have the right under our law – I've been a military lawyer for 30 years – to gather intelligence from enemy combatants, and a citizen can be an enemy combatant."
Graham added, however, that Tsarnaev is not eligible for a military tribunal due to his American citizenship.
Watch this segment below via CNN:
> >Follow Noah Rothman (@NoahCRothman) on Twitter
Have a tip we should know? [email protected]