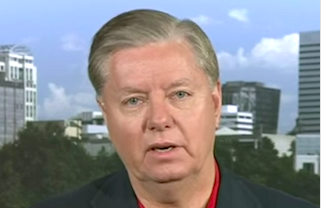 Once again this week, Ben Carson is under fire for something he said off-the-cuff during a media appearance and probably wishes he could take back. Speaking to Fox & Friends on Tuesday, the GOP presidential candidate said that if he had been present when the gunman in Oregon started shooting, he would have fought back, gun or no gun.
"Not only would I probably not cooperate with him, I would not just stand there and let him shoot me," Carson said. "I would say, 'Hey guys, everybody attack him. He may shoot me, but he can't get us all.'"
To some, this sounded like victim-blaming, a criticism echoed by fellow candidate Lindsey Graham on CNN's New Day this morning.
"I think Mr. Carson has no idea what he would do," Graham told Chris Cuomo. As a military veteran, albeit one who did not experience heavy combat, Graham said you never know how you're going to react in a situation like this one, likening it to the Holocaust at one point.
"All I can say is that's not what we need to be saying as leaders of the country," Graham continued. "I'm glad President Obama went to go see these people," he said of the victims and their families in Oregon. "I just don't think that's the road to go down in terms of questioning these people, who have lost their lives, because you have no idea what you would do."
Watch video below, via CNN:
Carson's top rival for the Republican nomination, Donald Trump, was quite a bit more forgiving, using Twitter to defend those remarks earlier today:
Ben Carson was speaking in general terms as to what he would do if confronted with a gunman, and was not criticizing the victims. Not fair!

— Donald J. Trump (@realDonaldTrump) October 7, 2015
And in subsequent interviews, Carson has refused to back down from his original sentiment. He insisted to Megyn Kelly that he is not "judging" the victims for how they handled the situation and today told CBS This Morning, "I want to plant in people's minds what to do in a situation like this. Because unfortunately, this is probably not going to be the last time this happens."
[Photo via screengrab]
— —
>> Follow Matt Wilstein (@TheMattWilstein) on Twitter
Have a tip we should know? tips@mediaite.com