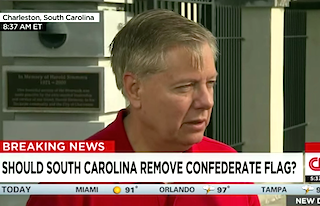 Two days after a young white man entered a black church in Charleston and murdered nine people, the U.S. and South Carolina both have both been lowered to half-staff atop the statehouse in Columbia out of respect. But the Confederate flag remains exactly as high as it's been for years.
Asked by CNN's Alisyn Camerota if it's time for South Carolina to stop flying the Confederate flag in its capitol, Sen. Lindsey Graham (R-SC) said it would be "fine" with him if the people of his state want to "revisit that decision."
"But this is part of who we are," the presidential candidate continued. "The flag represents, to some people, a civil war, and that was the symbol of one side. To others, it's a racist symbol, and it's been used by people in a racist way."
Graham went on to state that the problems of racism do not stem from "symbols" but rather "what's in people's heart," arguing that South Carolinians need to "move forward" instead of focusing on the past… while still allowing the Confederate flag to fly.
RELATED: Lindsey Graham: Charleston Shooter May Have Been 'Looking for Christians to Kill'
Last night, MSNBC's Chris Hayes posed a similar question to former South Carolina governor and current congressman Mark Sanford, who similarly defended the flag as a "symbol of heritage" for some people and not just an emblem of hate.
In an essay for The Atlantic titled "Take Down the Confederate Flag — Now," Ta-Nehisi Coates proposed the following solution:
Put it in a museum. Inscribe beneath it the years 1861-2015. Move forward. Abandon this charlatanism. Drive out this cult of death and chains. Save your lovely souls. Move forward. Do it now.
Watch video below, via CNN:
[Photo via screengrab]
— —
>> Follow Matt Wilstein (@TheMattWilstein) on Twitter
Have a tip we should know? tips@mediaite.com