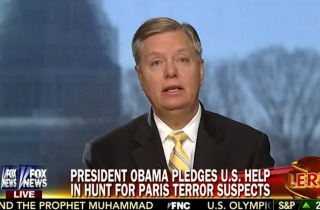 While discussing the ramifications of Wednesday's terrorist attack at satirical magazine Charlie Hebdo's office in Paris, Sen. Lindsey Graham (R-S.C.) said President Barack Obama's policies and campaign promises are "getting a lot of people killed" because he refuses to acknowledge that the France attacks and others are motivated by religion.
"The people who are attacking us and attacking France are motivated by religious teachings that say there's no place on the planet for anybody that disagrees with them," Graham said on Fox News Thursday morning, adding that Obama is "undercutting" other foreign leaders by not acknowledging that it is a religious war. "I think he believes that strength is offensive, that he doesn't want to be bold because he may offend somebody — it's not offensive to say that these are religious fanatics that don't represent Islam, that have to be dealt with, they have to be killed or captured."
After Graham charged that Obama's policies are making Americans "less safe," host Martha MacCallum pressed him on specifics. He said the president's refusal to hold captured terrorists as "enemy combatants" prevents counterterrorism officials from extracting intelligence.
Then came the accusation that Obama's campaign promises are getting people killed:
"When he left Iraq, he did so on a campaign promise. He's trying to close Gitmo based on a campaign promise. His campaign promises are getting a lot of people killed. Our intelligence-gathering abilities have been compromised. The only way you can stop these attacks is to find out about them before they occur. We're reducing our military spending at a time when we need it the most. These policies driven by President Obama of being soft and weak and indecisive are coming home to haunt us."
He concluded by saying that because of President Obama's policies, "it's just a matter of time" before America is attacked at home if an adjustment is not made. Graham expressed similar views on Wednesday when he told CNN's Dana Bash that journalists are "soft targets" in the wake of the Charlie Hebdo terrorist attack.
NBC's Ayman Mohyeldin and former Gov. Howard Dean (D-VT), though, have both said this is not and should not be a religious issue.
Watch the video below, via Fox News:
In keeping with his positions on radical Islam, Graham said the same exact thing about President Obama's campaign promises to Hugh Hewitt. You can listen to that here:
[Image via screengrab]
— —
>>Follow Andrew Desiderio (@forza_desiderio) on Twitter
Have a tip we should know? tips@mediaite.com