Graham On Impending Strikes In Libya: This Is What Obama Does When He Gets 'Lot Of Criticism'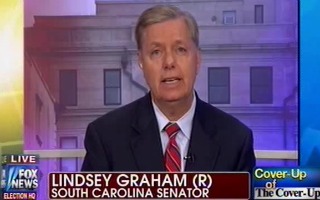 Sen. Lindsey Graham joined Fox & Friends to discuss his reaction to the unfolding scandal surrounding President Barack Obama's administration's handling of the attack on an American consulate in Libya in September. He said that the Libya attack was the result of a failed foreign policy. When asked if he thought the news that the administration was preparing for retaliatory strikes in Libya was an election year political maneuver, Graham said that he thought this is what the president does when he is subject to criticism.

RELATED: In Public Letter, GOP Senators Won't Let White House Off Hook For Benghazi
Graham appeared on Fox & Friends after being co-signatory to a letter, along with fellow Armed Services Committee members Sens. John McCain (R-AZ) and Kelly Ayotte (R-NH), in which he admonishes the White House for trying to shift blame for the Benghazi scandal away from the Oval Office.
Graham was asked if he thought the Benghazi episode is a cover up. He said he would call it "exhibit A of a failed foreign policy."
"They have a minimalist approach to foreign policy, lazes fair attitude," said Graham. He said that contrasted dramatically with the administration's "command and control" approach to the domestic economy.
"They have a leading from behind approach and it caught up with them in Libya," Graham said. "Libya was a deteriorating security environment for months before 9/11. The militias were known to be a problem and we did nothing about it, and it caught up with us."
"Now that we're talking about getting together special forces strike team to locate the militia that did this and attack, some people are saying that this adds up to an October surprise, or do you think this is what you do after we're attacked," asked Brian Kilmeade.
"I think this is what they do after they got a lot of criticism," said Graham. "This should have been the first response. The president should have been on national television talking about how this will not stand."
"The region is coming unraveled," Graham added. He said that what he saw in Iraq two months ago disturbed him as well, saying that leaving no troops on the ground in Iraq "has caught up with us" as well.
Watch the clip below via Fox News Channel:
> >Follow Noah Rothman (@Noah_C_Rothman) on Twitter
Have a tip we should know? tips@mediaite.com