Lindsey Graham Plays PC Version of F*ck-Marry-Kill With Palin, Fiorina and Clinton
Republican presidential candidate Sen. Lindsey Graham (R-SC) of "rotating first lady" fame played a politically correct version of F*ck-Marry-Kill with CNN's Dana Bash at a "Politics on Tap" event Tuesday night. His choices? Former Alaska governor and vice presidential candidate Sarah Palin, current Republican presidential candidate Carly Fiorina, and Democratic presidential front-runner Hillary Clinton.
Aside from the many tear-inducing layers that is this godawful and inappropriate onion of a question, perhaps the most offensive thing about it is Bash's insistence that she "clean [it] up because we are in mixed company." So she called it Date-Marry-Make Disappear Forever.
DATE.
MARRY.
MAKE DISAPPEAR FOREVER.
Graham, ever the southern gentleman and lifelong bachelor, visibly licked his lips and said, "I didn't know we were gonna do the Mormon thing here" when Bash offered him Palin, Fiorina and Clinton as his choices. (Why? I have no idea, since none of the three women are Mormon and Bash didn't ask Graham to marry all of them.) He also stressed, per his bachelorhood, that he could never go beyond the dating round.
Bash kept pressing him for answers though, so Graham relented and said he'd date Palin ("We'll go hunting on our first date"), marry Fiorina ("Because she's rich"), and he refused to make Clinton disappear forever. "I gotta really watch what I say here," he joked at one point.
You're a saucy boy, Lindsey.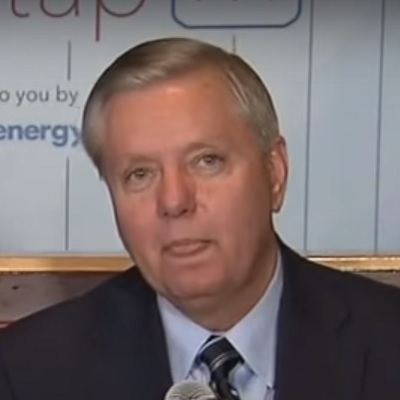 Check out the clip above, via CNN.
[h/t Talking Points Memo]
[Image via screengrab]
— —
>> Follow Andrew Husband (@AndrewHusband) on Twitter
This is an opinion piece. The views expressed in this article are those of just the author.