Lindsey Graham Rips Obama Over Terrorism Speech: 'Most Tone Deaf President I Could Ever Imagine'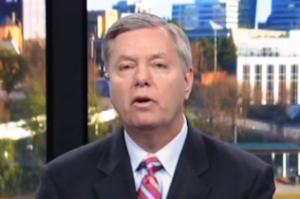 South Carolina Senator Lindsey Graham accused President Barack Obama of weakening America's national security and emboldening radical Islam by prematurely declaring a drawdown in the War on Terror.
The comments followed an exchange between Fox News Sunday host Chris Wallace and Illinios Senator Dick Durbin, in which Wallace posed, "The president said 'wars must end,' but the fact is the Cold War lasted forty years. Isn't there a danger to declaring an end to this war too soon?"
Durbin cautioned against the dangers of perpetual warfare, but Graham argued radical Islamist groups were retrenching. "At a time we need resolve the most, we're sounding retreat," Graham said, adding:
We showed this lack of resolve, talking about the war being over. What do you think the Iranians are thinking? At the end of the day, this is the most tone deaf President I ever could imagine. Making such a speech, at a time when our homeland is trying to be attacked literally every day. Changing the standards of when someone can be attacked with a drone. It has to be a continuing imminent threat to the American people with no chance of civilian casualties, virtually no chance of civilian casualties.
"I think we're diminishing our national security infrastructure," Graham continued. "Sequestration is dismantling the military at a time when we need it the most. I've never been more worried about our national security than I am right now, and this speech did not help."
Watch the whole segment here:

—
>> Follow Evan McMurry (@evanmcmurry) on Twitter
Have a tip we should know? tips@mediaite.com