Lindsey Graham Savages Obama On Benghazi: 'Insulting My Intelligence,' A Victim Only Of Own 'Abuse Of Power'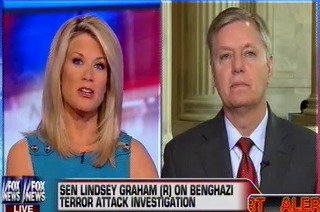 "This is not a Fox News story, this is an American story," declared Sen. Lindsey Graham (R-SC) on Tuesday when asked about President Barack Obama's insistence that the controversy surrounding the editing of the State Department's talking points relating to the Benghazi attack a "sideshow." Graham said the president was "insulting my intelligence" and those of average Americans when he insists he declared Benghazi a terrorist act in the days immediately following the attack.

"I want to know what your reaction is to the president yesterday calling this investigation and discussion about the talking points, he said it's a 'political circus' and that it goes back to political motivations," said Martha MacCallum. "He basically told the press yesterday, 'Get off of this topic, because you're just falling into the hands of those who are politically motivated on it.'
"He'd rather talk about the IRS abuses than talk about Benghazi," Graham opined. "The Obama administration is not a victim of anything other than their excess abuse of power."
RELATED: Obama Accuses Opponents Of 'Political Circus,' Calls Benghazi Talking Points Controversy 'A Sideshow'
"This is a story of manipulation by the government with the president being complicit of trying to tell a story seven weeks before an election that was politically beneficial for the White House, but did not represent the facts on the ground," Graham added.
"The president is insulting my intelligence and the American people by suggesting he called this a terrorist attack from the get-go," he continued. "That's not true."
"Should the president be defending those talking points?" MacCallum asked, noting that the record is now clear that federal officials knew the attack in Benghazi was a terrorist incident within 24-hours.
"The president is insulting the American people," Graham agreed. "This is not gonna stop. This is not about Fox. This is not about Lindsey Graham. It is about the administration's foreign policy failing."
Watch the clip below via Fox News Channel:
> >Follow Noah Rothman (@NoahCRothman) on Twitter
Have a tip we should know? tips@mediaite.com