Lindsey Graham Slams Rand Paul, GOP'ers Cheering Him: Paul's Position On Drones Not 'A Republican View'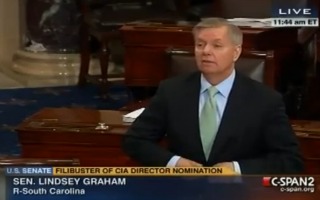 Joining Sen. John McCain (R-AZ) objection to Sen. Rand Paul's (R-KY) filibuster of President Barack Obama's nominee to become the next CIA director, Sen. Lindsey Graham (R-SC) slammed Paul and the members of his party who cheered his filibuster. Graham said that Paul's position on drones is not a "Republican view," and he is "disappointed" in his fellow Republicans for supporting Paul's opposition towards Obama administration's drone policy.

RELATED: Rand Paul Fires Back At Filibuster Critics, Shocks Glenn Beck With Revelation He May Vote For Brennan
"To my Republican colleagues, I don't remember any of you coming down here suggesting that President [George W.] Bush was going to kill anybody with a drone," Graham said. He added that even Democrats never accused Bush of wanting to assassinate Americans with a drone.
"What is it, all of the sudden, that this drone program has gotten every Republican all spun up?" Graham asked. He said that many are "astonished" that Obama has continued President Bush's war on terror. "I'm not astonished, I congratulate him for having the good judgment to understand we're at war," Graham added.
"To my party, I'm a bit disappointed that you no longer apparently think we're at war," he observed. "Not Senator Paul, he's a man to himself. He has a view that I don't think is a Republican view – I think it's a legitimately held libertarian view."
Graham slammed Paul for failing to sign a resolution in which the Senate professed its refusal to accept a nuclear-capable Iran.
Watch the clip below via C-SPAN 2:
> >Follow Noah Rothman (@NoahCRothman) on Twitter
Have a tip we should know? tips@mediaite.com