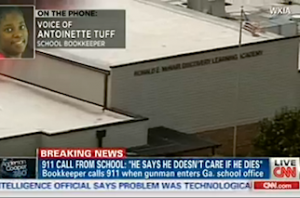 The full 911 call from the narrowly averted school shooting in Georgia yesterday has been released and tonight on CNN, Anderson Cooper played an extended excerpt from it for his audience. In the video below, you can hear school bookkeeper Antoinette Tuff calmly relay messages from the 20-year-old shooter Michael Brandon Hill, while she slowly helps talk him out of killing students.
On the 911 call, Tuff can be heard telling to operator to keep the police out of the school or else Hill will begin shooting. At one point, she says he's gone outside and started shooting. She considers running to a safe place, but apparently does not have time before he returns.
Hill instructs Tuff to put the 911 operator on hold and "call the news." When she returns to the 911 operator, Huff says, "he doesn't want the kids, he wants the police so back off" and "he said he don't care if he die and he don't have nothing to live for, and he said he's not mentally stable."
Later, Tuff calls one of Hill's relatives, asking him if it's OK to "tell her to let her come" to the school. "She sound like she loves you a lot," she tells Hill. Eventually, Tuff asks the operator, "If I walk out there with him, they won't shoot him or anything like that? He wants to give himself up. Is that okay? They won't shoot him?"
When she finally get him to surrender, Tuff tells Hill, "We not going to hate you, baby. It's a good thing that you giving up, so we're not going to hate you." She tells Hill she's "proud" of him and that he shouldn't worry. "We all go through something in life," Tuff says.
Watch video below, via CNN:
[photo via screengrab]
—
>> Follow Matt Wilstein (@TheMattWilstein) on Twitter
Have a tip we should know? [email protected]