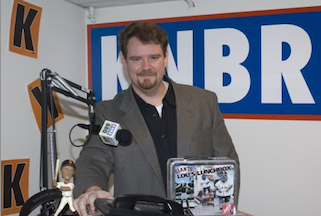 San Francisco sports radio host Damon Bruce somehow managed to turn the Miami Dolphins bullying story into a devastating tirade against women in sports. The KNBR host unleashed his nearly nine minute rant on the air this week, explaining how sports has "lost its way" because "we've got women giving us directions."
"For some of you, this is going to come across as very misogynistic," Bruce said in an attempt to deflect criticism. "I don't care, because I'm very right." Sports website Deadspin transcribed some of the most hateful passages of Bruce's rant, including one in which he outright dismissed female sports journalists:
"I enjoy many of the women's contributions to the sports—well that's a lie [lauging]. I can't even pretend that's true. There are very few—a small handful—of women who are any good at this at all. That's the truth. The amount of women talking in sports to the amount of women who have something to say is one of the most disproportionate ratios I've ever seen in my life. But here's a message for all of them…All of this, all of this world of sports, especially the sport of football, has a setting. It's set to men."
Bruce also made an analogy about sports and childbirth that was particularly outrageous:
"This is guy's stuff. This is men's stuff. And I don't expect women to understand men's stuff anymore than they should expect me to be able to relate to labor pains."
As of midday Friday, neither Bruce nor the station has addressed the criticism on their respective Twitter accounts.
Listen to audio below, via KNBR:
[h/t Deadspin]
[photo/audio via Awful Announcing]
— —
>> Follow Matt Wilstein (@TheMattWilstein) on Twitter
Have a tip we should know? tips@mediaite.com