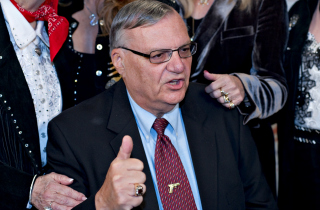 Arizona State Rep. John Kavanagh (R-8th District) has come under fire from critics after he made a variety of jokes involving Latinos, Muslims, and Asians during a private roast of Maricopa County Sheriff Joe Arpaio last weekend.
"I'm not the federal monitor," began one joke. "How many Hispanics did you pull over on the way over here, Arpaio?" The line was met with loud applause from the Western Conservative Conference crowd.
In another joke, Kavanagh said he originally "scoffed" at concerns that the state's controversial SB 1062 legislation would encourage discrimination, "Until tonight, when a Muslim waiter serving up here, walked up to Sheriff Joe, wouldn't give him his dinner because he said, 'I don't serve swine.'"
The Republican lawmaker also took a jab at Arpaio's age (he's 81) by pretending to have just learned the sheriff served in the Korean War and not a much earlier American battle.
"All these years, I figured he was rounding up Hispanics because he had a grudge against the Spanish-American War," he said. "So, if you were in the Korean War, how come you are not rounding up Asians?"
Using an undercover monitor, the Southern Poverty Law Center recorded audio of the roast and blasted Kavanagh for going "beyond the pale" because he's an elected official. The Arizona Republic spoke to several prominent lawyers who expressed concerns about Kavanagh's jokes.
But the lawmaker pushed back, telling the newspaper, "I was roasting Sheriff Arpaio. That was parody on him. That should be quite obvious." He dismissed the criticism: "They are creating controversy where it doesn't exist, perhaps for their own political purposes."
Listen to the roast below, via HateWatch:
[Photo via Shutterstock]
— —
>> Follow Andrew Kirell (@AndrewKirell) on Twitter
Have a tip we should know? tips@mediaite.com