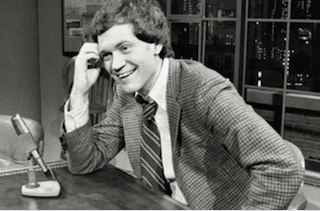 Long before he became the late night legend who retired after more than 33 years on television this week, David Letterman was a young comedian and frequent guest on Johnny Carson's Tonight Show. It was at this moment in 1981, between the cancelation of his short-living morning and then launch of Late Night on NBC, that Letterman sat down for an in-depth interview with Fresh Air host Terry Gross.
As part of its tribute to the departing host on Thursday, Fresh Air put out a portion on the longer discussion on its podcast in which a very innocent-sounding Gross interviewed an already acerbic Letterman about his place in the comedy scene of the 1980s.
The section of their interview that feels both the most dated and relevant today comes towards the end when Gross asked Letterman to name some of his favorite comedians working at the time.
"The best person in a nightclub situation now is Bill Cosby," Letterman declared. "It's just unbelievable what this man is capable of doing. And he doesn't really tell jokes per se, but he comes on stage and sits down in a chair — and this is interesting because the purpose of your appearance there, you have to dominate this group and to dominate and control from a seated position is interesting. And he does it. And he is unbelievable. And I would guess he would be the best in a nightclub situation."
"Then there are the newer guys, Steve Martin is just a phenomenon," Letterman continued, referencing the man who became on his most frequent Late Show guests and appeared on stage of the final top ten list Wednesday night. "Then I have my own peers who I think are great. There's Jay Leno, who I think is probably the best new — not so new — but best at really observational material."
Little did he know at the time what would become of Bill Cosby and that his friend and "peer" Jay Leno would become his longtime showbiz nemesis after defeating him in the battle to succeed Carson. Letterman even invited Leno to appear on one of his final Late Shows, but apparently the two men could not figure out a way to come together for the occasion.
Listen to the clip below, via NPR:
And you can hear the full interview at npr.org.
[Photo via screengrab]
— —
>> Follow Matt Wilstein (@TheMattWilstein) on Twitter
Have a tip we should know? tips@mediaite.com