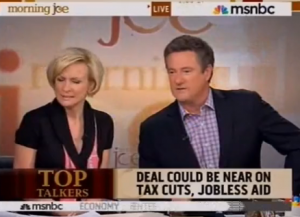 MSNBC's Morning Joe makes a point about being delightfully unscripted–and it sure lived up to the bill Monday. In a discussion of extending the Bush tax cuts, Joe Scarborough spoke quite clearly off the cuff, looking directly into the camera and advising those who "made fun of me a year and a half ago for saying this was going to be 1994 Kiss my ass." Yes!
Even better, though, was Mika Brzezinski's reaction: a startled "oh!" She then wrinkled her nose ever so nicely and shook her head in disappointment at her potty-mouthed co-host. "Terrible, that wasn't very civil," she said.
"No, it wasn't," conceded Scarborough. "I'm sorry."
Efforts by Scarborough to write the KMA moment off to a Morning Joe writer quickly went nowhere:
I said it jokingly. It was a punchline. It was in my script. Oh, I'm sorry, we don't have scripts.
Watch it, from MSNBC:
The light moment led to a political point by Scarborough, reflecting on his own time in Congress in 1995, and comparing it to the precarious political position President Obama faces today:
"We Republicans came in thinking we owned the world. Thinking that Bill Clinton was finished, thinking that we had him cornered. Very arrogant about how we were going to push him around. And he punched us in the face. He pushed us back…We were disciplined and smart. We continued and continued and continued through August, September, October, shut the government down. It was a staring contest and Bill Clinton didn't blink. This president is blinking in December."
Have a tip we should know? [email protected]
---