Liz Cheney: 'It's Shameful' Hillary Clinton Stood Next To Coffin Of Dead U.S. Ambassador And Lied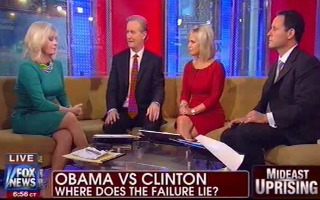 One month after the deadly attacks of 9/11/12 in Libya, another American security official has been killed overseas, this time in the Yemeni capital of Sana. Liz Cheney appeared on Fox & Friends on Thursday where she said that President Barack Obama's administration has been lying – Al Qaeda is not on the decline, it is ascendant. She further alleged that the administration was perpetrating a "cover up" over the causes of the attack in Libya that resulted in the death of Amb. Chris Stevens.

RELATED: Jake Tapper Grills Carney On Libya: 'Didn't President Obama Shoot First And Aim Later?'
Gretchen Carlson asked Cheney what she thought of last night's assassination of a United States security official in Yemen. "I think what it shows very clearly is we are seeing an ascendant Al Qaeda, both in North Africa and the Arabian Peninsula," Cheney said.
"It is something that's happening that's very much contrary to the administration's preferred narrative," Cheney continued. "The president says every single day, multiple times, on the campaign trail that Al Qaeda is in retreat. Not true. Al Qaeda is ascendant and they seem to have been looking the other way wanting the American people to believe what is happening was the result of this video when clearly it wasn't."
Steve Doocy went on to detail what was said in Congress on Wednesday during a hearing over the security failures which led to the 9/11/12 attacks. Cheney said that some State Department officials who testified in Congress said that they knew the event was terrorism as it was happening. Cheney said that Sec. Hillary Clinton should be called to testify to identify what she knew of the attacks and when.
"You know what was incredible is that they would not use the word 'terror,'" said Brian Kilmeade. "It was almost comical to see these State Department lifers refuse to acknowledge the biggest threat to the State Department officials all around the globe."
"Well, it's a cover up, there's no question," Cheney replied.
"When did the cover up in your mind start," Carlson asked.
Cheney said that immediately after the event, when officials began purporting that an anti-Islamic YouTube video was responsible, was the start of the administration's untruthfulness.
"Secretary Clinton, as she was standing next to the coffin with the body of our ambassador and the three other Americans that were killed, as she was standing next to those coffins she said, you know, a horrific video," said Cheney. "That's just shameful and it's not true."
Watch the segment below via Fox News Channel:
> >Follow Noah Rothman (@Noah_C_Rothman) on Twitter
Have a tip we should know? tips@mediaite.com