Local NBC Station Exposes GOP Rep's Taxpayer-Funded Lunches After He Says 'No Such Thing as a Free Lunch'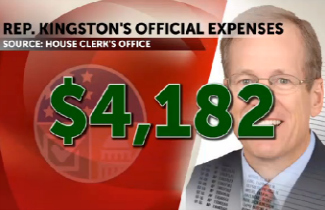 Several weeks after Rep. Jack Kingston (R-GA) generated controversy for suggesting low-income students ought to sweep cafeteria floors to learn "there's no such thing as free lunch," local Georgia NBC station WSAV 3 revealed all the "free lunches" Kingston receives on the taxpayer dime.
According to the Savannah-based station, Kingston and his staff have expensed $4,182 worth of business meals. Having traveled to four continents as a member of the House Appropriations Committee, the congressman has also racked up $24,313 in per diem allowances which include midday meals. All of these come at taxpayer expense.
The WSAV report also included meals provided to Kingston by political donors and interest groups, but that's really off-point seeing as Kingston's controversial quote refers to taxpayer-funded lunches for students.
Kingston made the initial "no free lunch" remark as part of his emphasis on "workfare over welfare" and, in doing so, borrowed a widely-used phrase popularized in Robert Heinlein's 1966 science-fiction novel The Moon Is a Harsh Mistress.
Heinlein and other popularizers of the phrase — including economist Milton Friedman — used "There ain't no such thing as a free lunch" to summarize the important economic principle that even when something is nominally "free," it always comes with a hidden cost or an externality. It has become an important tool for reminding advocates of bigger government that while providing more goods for "free" seems well and good, it always comes with unintended consequences and costs.
So Kingston correctly used the phrase to summarize how even though free school lunches seem free, they come at the cost of higher taxes or, in his belief, decreased work ethic among students. But he does look slightly silly when people realize that his own lunches ("free" to him) come at the expense of taxpayers too.
Yes, WSAV muddied the meaning of the original phrase a bit with their investigation, but the whole ordeal just reminds everyone that many Republicans — however well-intentioned — can be incredibly tone-deaf on issues dealing with poverty.
Watch the report below, via WSAV-3:
— —
>> Follow Andrew Kirell (@AndrewKirell) on Twitter
Have a tip we should know? tips@mediaite.com