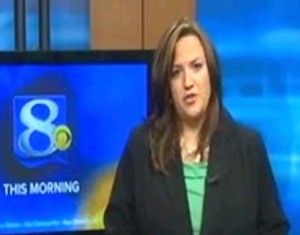 Jennifer Livingston, a news anchor working at Wisconsin's WKBT News 8 This Morning, responded on the air to a viewer who e-mailed the station expressing some concern over her weight. Livingston scolded the viewer, telling them that she knows she is overweight, and used the opportunity to talk about anonymous bullying on the internet.
Livingston explained that she received an e-mail titled "Community Responsibility" which told her she was not being a "suitable example" for young people in the community because she is overweight. The anonymous viewer closes the e-mail by telling Livingston she should reconsider her life choices and help "promote a healthy lifestyle." Livingston's husband posted the message on the WKBT Facebook page, and it received an overwhelming response from users.
Livingston acknowledged that she is overweight, but scolded the anonymous viewer for giving her a hard time about it, telling him "you know nothing about me but what you see on the outside." She used the opportunity to address the issue of online bullying.
Now, I am a grown woman, and luckily for me, I have a very thick skin; literally, as that email pointed out, and otherwise. And that man's words mean nothing to me. But what really angers me about this is there are children who don't know better… And this behavior is learned. It is passed down from people like the man who wrote me that email. If you are at home, and you are talking about the fat newslady, guess what? Your children are probably going to go to school and call someone fat. We need to teach our kids how to be kind, not critical, and we need to do that by example.
Livingston thanked viewers and colleagues for their words of support and "taking a stand against this bully."
Watch the video below, courtesy of WKBT:
h/t Jezebel
—–
Follow Josh Feldman on Twitter: @feldmaniac
Have a tip we should know? tips@mediaite.com
Josh Feldman - Senior Editor