Local News Crew Mocks Celebrity Stylist After He Awkwardly Attempts To Plug Credit Card On Air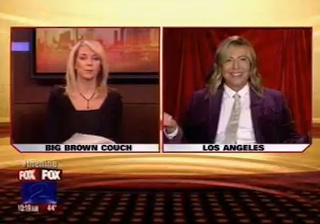 Now that we've all spent a night watching millionaires congratulate themselves for a tough year of wearing wigs and pretending to cry, it's time to ritualistically tear them down. Sure, there are few things more unwatchable than a celebrity fashion segment on the news, but it's the only way we as a country can get over the fact that we'll never go to an Oscars after party. However, the segment on Detroit's WJBK got a little strange after celebrity stylist Steven Cojocaru attempted to slip a plug for an American Express credit card into his report.
The segment started a little off, with a giggling Cojocaru discussing how "devilish" he's feeling because he didn't have any sleep and, last night, George Clooney hit on him because the actor mistook him for Charlize Theron. However, things didn't really get weird till the end when the stylist dove into a random speech about how awesome American Express rewards packages are.
"And I want to teach women that they can look like stars. All they have to do is be smart shoppers. You know, women are always asking me for tips. I go, 'Know yourself, listen to your gut, know your body. and shop smart. Shop on sale, like my mother taught me.' And, for me, I have the American Express Platinum Card and get the reward cards and I get to go on free shopping sprees. So know your body, know yourself, and be a smart shopper."
Apparently, celebrity stylist work doesn't pay enough that you won't turn down a sweet endorsement.
The instant the segment ended, the WJBK crew began joking about how "smooth" Cojocaru was at dropping his sponsor. Anchor Jason Carr then remarked that Mariah Carey wasn't looking so good these days which led to this fun exchange.
CARR: Mariah Carey, not looking so good these days.

KAM CARMAN: Oh, I haven't seen Mariah Carey.

CARR: You just talked to Mariah Carey. Wasn't that Mariah Carey we were interviewing, brought to you by American Express?
At this point, Carr's fellow anchors all stared at him with a look that seemed to say, "Hey, it's cool for the effeminate fashion critic to make jokes like that, but maybe we shouldn't…"
God, I'm glad award season is over.
Watch the clip from WJBK below:
Have a tip we should know? tips@mediaite.com