Local News Finds Flying Roaches, Dead Bugs Swarming All Over Florida McDonald's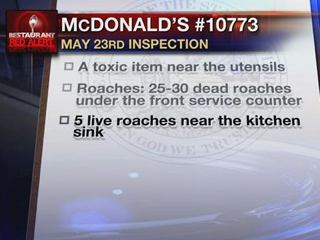 In today's edition of "unsettling local news stories," a McDonald's in Tampa, Florida had some explaining to do to government inspectors after they initially refused to let them in. The inspectors were tipped off by a customer alleging a cockroach had fallen into his or her food from the ceiling, and the investigation inspectors were finally allowed to do revealed a number of flying insects, dead ones below the counter, and a bevy of other disgusting health risks.

The inspector, according to local news channel WTSP, was "denied immediate access to the kitchen and told to 'take a seat.'" Although, were that the end of the story, this would be disgusting enough, WTSP decided to investigate whether the inspector's visit did anything to change conditions. McDonald's sent WTSP 10 the following statement:
"The safety and cleanliness of our McDonald's restaurants are of the utmost importance to us. We always comply and regularly exceed standards for health inspections. A recent health inspector's report referenced a situation that was the result of confusion between the inspector and McDonald's protocol. The restaurant staff followed procedure and received supervisor approval and the inspector was admitted to conduct his inspection. The findings were acted upon and the restaurant is in complete compliance with health regulations."
WTSP's reporters went for a visit anyway, and could not record most of their visit because the manager of the McDonald's would not allow them, eventually leading them out of the McDonald's after the reporter asked to see the cooking quarters. Despite this, reporter Beau Zimmer says he saw multiple dead cockroaches and other flying insects, as well as other health risks, all over the McDonalds.
You can watch WTSP's report below:



[h/t]


—–
» Follow Frances Martel on Twitter
Have a tip we should know? tips@mediaite.com