Lolo Jones Tearfully Tells Savannah Guthrie: Media 'Ripped Me To Shreds' Before Race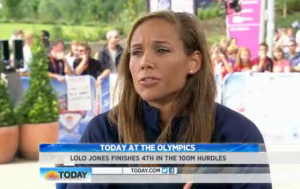 US Olympic track and field athlete Lolo Jones sat down with Today co-anchor Savannah Guthrie this morning, expressing her disappointment with her recent fourth place finish. Calling it heartbreaking, Jones also went on to note that the media "just tore me apart" before her race, rather than supporting her. In particular, The New York Times.
Jones openly stated her disappointment with her Olympic performance, but on a more positive note, recalled that exactly a year ago, she was undergoing spinal cord surgery (in addition to two hamstrings injuries). "I keep trying to focus on that and not the negativity," she said.
Still, Jones said she was "crushed" after her fourth place finish in the 100m hurdles. While it was her best race of the season, she said it's still painful knowing she was so close to a medal. Noting that Jones was among the batch of the fastest Olympians in history in the event, Guthrie asked whether that provided any consolation. "It doesn't make you feel better," Jones replied plainly.
Guthrie then turned to a slightly different topic, bringing up the criticism Jones has faced — including an unflattering New York Times piece that stated Jones' vast publicity was based on a "sad and cynical marketing campaign," not backed by athletic achievement. Choking up, Jones recalled the story came two days before she competed, from a news outlet in her own country no less.
"The fact that it was from US media. I mean, like, they should be supporting our US Olympic athletes and instead they just ripped me shreds, and I just thought that that was crazy because I worked six days a week every day for four years, for a 12-second race. And the fact that they just tore me apart, it was just heartbreaking."
"They didn't even do they're research," she added, in calling her the Anna Kournikova of track, even though she's an American record holder. "Just because I don't boast about these things, I don't think I should be ripped apart by media."
Take a look, via NBC:

Have a tip we should know? tips@mediaite.com