London Mayor Boris Johnson Slams Romney's Comments Before Cheering Olympic Crowd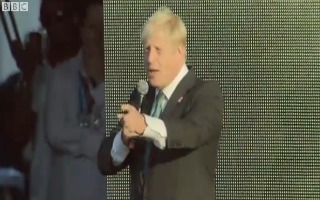 Mitt Romney's comments to NBC News where he expressed his concern over the security preparations that the U.K. has made ahead of the 2012 Olympic games has not been well received in Great Britain. Today, as London Mayor Boris Johnson closed the 69 day torch relay that brought the Olympic flame to England, he slammed Mitt Romney's comments before a cheering crowd.

RELATED: Piers Morgan Defends Mitt Romney's Olympics Comments: 'He Was Just Speaking The Truth'
"People are coming from around the world. And they are seeing the greatest city on earth, aren't they," Johnson said to a cheering crowd of approximately 60,000 in London's Hyde Park.
"There are some people who are coming from around the world who don't yet know about all the preparation we've done to get London ready for the last seven years," Johnson continued. "I hear there is a guy called Mitt Romney who wants to know whether we're ready. He wants to know whether we're ready. Are we ready? Are we ready? Yes we are."
Johnson was met by cheers as he listed the various institutions and venues that were ready to receive the Olympic athletes. "There are going to be more gold medals than you would need to bail out Greece and Spain together," Johnson continued as he talked up Great Britain's athletic teams' prospects.
By the end of the London Mayor's speech, the crowd began to chant "Boris, Boris."
Watch the speech below via The BBC:
h/t BBC News
> >Follow Noah Rothman (@Noah_C_Rothman) on Twitter
Have a tip we should know? tips@mediaite.com