'Lone Star To Superstar': CBS Hosts Gush Over Texas Abortion Filibuster Leader Wendy Davis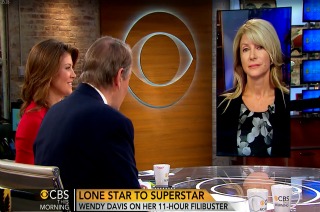 The hosts of CBS This Morning were positively taken with Texas state Sen. Wendy Davis (D-Fort Worth) during an interview on Thursday. Noting that the "superstar" state senator had successfully challenged the Texas Republican establishment with her 10 hour filibuster preventing the passage of a bill which would criminalize abortions in the second half of the pregnancy, the hosts wondered if "governor" was a more appropriate title for the freshly beatified politician.

After reporting that Gov. Rick Perry has called for a new session of the legislature and the bill she helped block, along with the critical assistance of a rowdy crowd of observers, is likely to pass, Norah O'Donnell asked if Davis planned to mount a second filibuster.
"I was able to do the filibuster because this bill came to the floor on the last day of the special session, and it made it possible to kill the bill as a consequence," Davis said. "It's not likely that they will make that same mistake again."
Davis said that "something tremendous was accomplished" in her filibuster, adding that the "uproar" over this bill will not go away if it becomes law.
"It has also catapulted you in the political limelight," Charlie Rose observed. "Will you run for governor or for national office now?"
Davis said that she was focused on completing her term as a state senator, but it was an "honor" to be considered for high office.
"But I did hear you say you'd be lying to say that – it has crossed your mind about running for higher office, right?" O'Donnell prodded.
"Yes, it certainly has," Davis conceded. "But I don't know if now is the right time for me. We'll see."
"Well, there isn't a seat until 2014!" O'Donnell gushed.
"… yes," a visibly uncomfortable Davis replied.
Maybe, it's just the nature of the filibuster – one person against the world fighting a lonely battle for what is often a lost cause – that creates a sense of affection within some journalists toward politicians.
Take, for example, Sen. Rand Paul (R-KY) who mounted a successful filibuster against President Barack Obama's drone warfare program. Surely, Paul received similar treatment from the CBS hosts when he joined This Morning to protest revelations surrounding the National Security Agency's sweeping intelligence gathering tactics.
RELATED: Rand Paul Battles CBS Hosts Over Necessity Of NSA Snooping: 'They Put You In Jail If You Complain'
Oh… I guess not. It's probably just the issue of abortion then.
Have a tip we should know? tips@mediaite.com