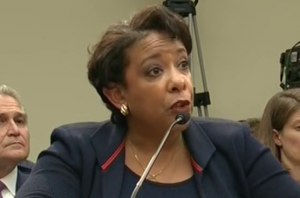 During her testimony before the House Judiciary Committee Tuesday, Attorney General Loretta Lynch at one point declined to say whether it was legal or illegal to lie under oath.
Republican Congressman Jason Chaffetz quizzed Lynch on the legality of a series of acts that former Secretary of State and Democratic presidential candidate Hillary Clinton has been accused of doing. But each time, Lynch stonewalled and refused to weigh in on whether the given act was legal or illegal.
"Is it legal or illegal to store, house or retain classified information in a non-secure location?" asked Chaffetz.
"I would refer you to the statute," she responded. "One could in fact have liability, again depending upon the nature, facts and circumstances."
"Do you have any examples of where it's legally acceptable to retain classified information in and non-secure location?" the Utah congressman followed up.
"I don't have a hypothetical answer for that," she responded.
Finally, Chaffetz asked whether it was legal or illegal to provide false testimony under oath, but Lynch avoided giving a direct answer. "There are a number of statutes that cover that, both at the federal and state levels. There are a number of ways in which that can be found," she said.
Chaffetz made a noise indicating disbelief. "There's a difference between prosecuting something and whether it's legal or illegal," he pointed out. "You know, these questions are pretty simple. We got millions of people with security clearance. How are they supposed to go through the gyrations that you've laid out in order to make a simple determination?"
"Congressman, if we had a specific fact situation, a fact pattern, that could be reviewed," Lynch responded. "When it comes to a hypothetical situation, it would be unfair to come up with a blanket answer…"
Watch the exchange above, via C-SPAN.
[Image via screengrab]
——
>>Follow Alex Griswold (@HashtagGriswold) on Twitter
Have a tip we should know? tips@mediaite.com