Lorne Michaels: GOP 'Easier' Target for SNL Because Dems Take Things 'Personally'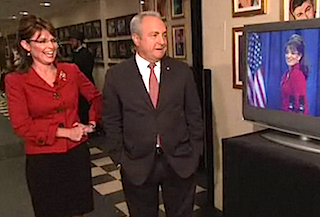 Before his takeover of the Tonight Show is complete when Jimmy Fallon takes the stage at 11:30pm two weeks for today, producer Lorne Michaels sat down with New York Magazine to discuss his ever-evolving career in show business. In doing so, he revealed some interesting new insight into how Saturday Night Live picks its political targets.
Asked if there are any "basic rules" for what works when it comes to political humor on the show, Michaels responded:
"Republicans are easier for us than Democrats. Democrats tend to take it personally; Republicans think it's funny. But we're not sitting here every week going, 'We've really got to do the First Family.' This week, our cold open is about three big stories. We have Piers Morgan interviewing A-Rod, Chris Christie, and Justin Bieber. We're doing more of that kind of thing than stuff about Benghazi or the new budget agreement. The country has lost interest in it. I can't tell you why. It's no less important, but in some way you can't do health care more than twice, at which point there's just nothing left. But Jay Pharoah does a really good Obama."
Michaels was referring to the recent Piers Morgan cold open touching on multiple big news stories, an approach that has become common on the show that tends to do more hard-hitting political satire up top in election years.
When the show did tackle Obamacare in September and October of last year, it surprised both liberals and conservatives. As Fox News' Kimberly Guilfoyle said of the second instance, which took the HealthCare.gov website and Health and Human Services Secretary Kathleen Sebelius head-on, "Thank you, Saturday Night Live for being honest."
Michaels stressed SNL's efforts to be nonpartisan in its comedy, even pointing out that he's registered as an Independent, "not because everything that we do would be undermined if we were partisan," adding, "Jon Stewart has that role." As anyone who watch Jon Stewart's recent interviews with Sebelius and House Minority Leader Nancy Pelosi knows well, he has no trouble breaking out of his partisan mode.
[h/t POLITICO]
[photo via screengrab]
— —
>> Follow Matt Wilstein (@TheMattWilstein) on Twitter
Have a tip we should know? tips@mediaite.com