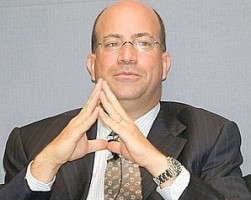 Seems like it was year's ago that the nation was breathlessly waiting for resolution to NBC's late night line-up drama, that unfolded in a wonderfully entertaining way. Not only did a healthy debate emerge, but there is still a reasonable and ongoing discussion on who were the winners and losers of the whole affair. But no one took it on the chin harder than NBC chief Jeff Zucker, who was pretty much railed for what was seen as his responsibility. But as great a story as that was, it obfuscated a larger narrative about the head of NBC-Universal: he's had an uncanny knack for nurturing very successful cable channels that have kept his company relatively strong and vibrant.
Need proof? The first quarter reports came out for NBC-Universal and the results were mixed. The biggest loss was the Olympics broadcasts which accounted for $782 million in revenue and a $223 million loss. That IS a big loss, but one late night executive close to the situation tells Mediaite "that was the best $223 million loss ever, because NBC was able to use that as a huge promotional platform. I shudder to think where we'd be without that loss."
The bright news for NBC-Universal's financial statement is in fact their cable growth. Writing for The Hollywood Reporter, George Szalai reports:
GE chairman and CEO Jeff Immelt reiterated that GE expects NBC Uni's bottom line for the full year 2010 to be down, even though things should look up from here. "Our worst quarter is behind us," he said. "Cable continues to be strong. The ad markets…have real strength. Film remains challenged, but we should see growth at NBCU for the balance of the year."

In the first quarter, cable networks remained the big growth engine at NBC Uni thanks to strong ratings across the channel portfolio. Cable networks revenue climbed 3% to $1.2 billion, and profit rose 4%, led by entertainment channels.

USA had its 15th straight quarter as the top network, Bravo posted its 18th consecutive quarter of ratings growth, and Oxygen had its highest ratings quarter ever, according to Sherin.

The broadcast business results were driven by the Olympics with revenue up to $2 billion, but profit down in the first quarter. Sherin highlighted "some really good recovery" in the advertising market, with local ad revenue up 15% in the latest period. He also said scatter advertising is up over 20% in both cable and the broadcast network, boding well for the nearing upfront ad market.
And its not just the ad market for the NBC's cablers that has been strong. A cursory glance at the highest rated shows on cable in the last week reveals six of the top 25. Take away sports and children's programming from the slate, and its all USA Network.
And speaking of USA Network, we'd be remiss in not giving proper credit where its due to USA head Bonnie Hammer. And Lauren Zalaznick at Bravo and Oxygen. And Dave Howe at SyFy. Truth be told, the cable presidents are an impressive lot.
With the probable acquisition by cable provider giant Comcast looming, there is no question that NBC-Universal is soon to enter a rather major phase of transition. And while its easy to take potshots at Zucker because decisions that have informed the prime time slate (passing over Katherine Pope?) there are is still many reasons to appreciate the larger picture.
Considering how many cable channels have succeeded at NBC Universal, Zucker deserves his share of credit for that success.
Have a tip we should know? tips@mediaite.com
Colby Hall - Founding Editor