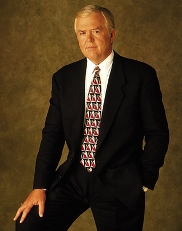 Now that Lou Dobbs is free from his CNN constraints, he's appearing everywhere from Fox News to NBC. But the on-air and off-air members of his show's staff want to stick around CNN as the network transitions away to a new show and format.
The New York Post reports they will have to re-apply for jobs within CNN to stay with the network.
Michael Shain writes that "more than 20 producers and reporters" will have to re-apply for jobs, while a spokesperson told "The interim 7 p.m. newscast [now called 'CNN Tonight'] is being produced by the former Dobbs team." But for how long?
Dobbs' show, more than any on CNN, has its own set of reporters that appear almost entirely on his program only. Those include Kitty Pilgrim (the usual fill-in host for Dobbs when he was out), Bill Tucker, Lisa Sylvester and Casey Wian. With Dobbs' timeslot now known as CNN Tonight, the correspondents are back in the rotation – Pilgrim's reports have aired several times last week. A CNN spokesperson tells Mediaite the network "cannot comment on individuals, but CNN is encouraging Lou Dobbs staff to apply for positions with the new 7pm program – as well as for other openings within the network."
Some other parts of the Post story weren't as accurate. It says Dobbs "amassed the largest single staff at the network" (not true, says CNN) and operated "independently from the rest of the network in a closed-off area" (also not true).
Meanwhile Dobbs is dropping hints about a political run – for the White House. In an interview with WTOP radio, Dobbs said, "Well, I'll tell you this much – it's one of the discussions that we're having. For the first time, I'm actually listening to some people about politics." Of course, we've got a long road to 2012.
• Related: Politics Daily has a cartoon about what the Dobbs-less CNN may turn into.
—–
» Follow Steve Krakauer on Twitter
Have a tip we should know? tips@mediaite.com